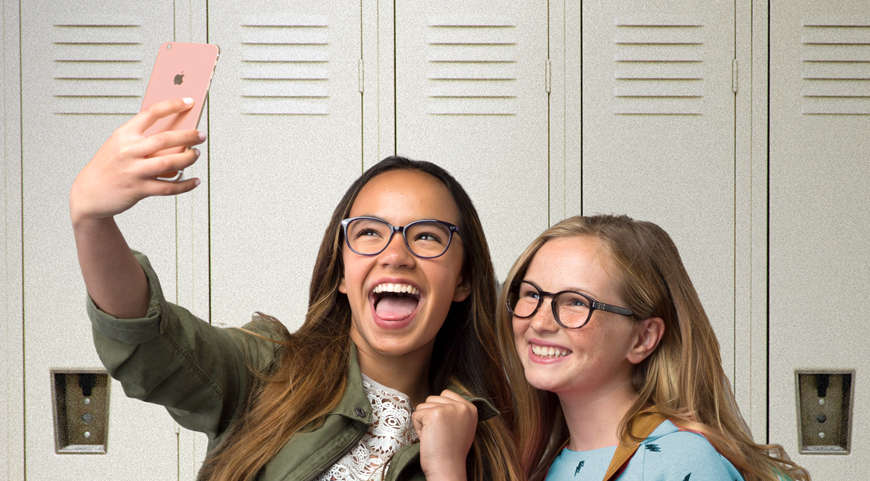 How to Take the Perfect Selfie (Even in Glasses)
Everyone takes selfies: celebrities, social media influencers, even politicians. Though some people make it look effortless, there's a lot of planning that goes into taking a great selfie. June 21 is National Selfie Day, so it's the perfect time to improve your game with helpful tips on getting the best shots.
Selfie experts consider lighting, background, editing, and angles to get the perfect snap. Glasses can complicate things a little, because you want to avoid lens reflections. Since we know you already have excellent taste in eyewear, we want to make sure you capture your new glasses or sunglasses in style.
Focus on these five selfie essentials and you'll go from novice to expert before you can say "cheese."
Know Your Angles
Let's start here because taking the perfect selfie is all about knowing your angles. Instead of taking a photo straight on, try tilting your head a little to the left or right to give your face more dimension.
Practice taking photos of yourself from multiple angles to see which side the camera likes best. Even Ariana Grande has a preference on which side she's photographed from (it's her left, in case you're wondering).
Oh, and make sure to snap your pics from a slightly high angle. Stay away from taking your photo from below, unless you want to perfectly capture the illusion of having 10 chins.
Select Your Setting
Ok, now that you know your angles, let's chat background and setting. No matter how great you look in the bathroom, bathrooms don't make for compelling photography. You're showcasing yourself, not your dirty bathroom.
Instead, opt for a simple background. Find a wall with a bright color or a natural landscape to pose in front of. At the very minimum, stay out of your bathroom.
Capture the Perfect Lighting
Lighting is a huge factor in planning a successful photo. Try to keep your light (the sun or another source) directly in front of you; light behind or to the side of you might make your features look distorted or shadowy. Pay attention to reflections in your glasses, and adjust your head to keep them to a minimum.
Tip: If you wear glasses, the best way to avoid the dreaded lens reflection is by opting for anti-reflective lenses. Don't let glare get in the way of having a good view of your eyes! We can teach you all about anti-reflective lens coatings.
Most of the time, natural lighting is better than artificial. Unless you're being professionally photographed, in which case, you're probably reading the wrong blog post. Oh, and remember to utilize the MAGIC HOUR right before sunset when you can capture colors at their best.
Enhance, But Keep It Simple
There are roughly 20 million apps that can airbrush you within an inch of your life. And while it may be tempting to add some Kardashian lips or the blonde highlights you've wanted to try, resist.
Assuming your followers know what you look like in real life, they'll be able to spot dramatic editing. Instead, keep it simple. The goal is to enhance your photos, not edit them beyond recognition. Start with a simple filter or play around with manually editing the contrast and brightness of your selfie.
Express Yourself(ie)
Selfies are all about YOU, so express yourself. Your friends want to see an interesting photo of you. Got a new haircut? Show it off! Got a fab new pair of ? Take a snap! If you take a lot of selfies, try to mix it up with different backgrounds, people, and poses.
Now that you know the most important elements of taking the perfect selfie, it's time to try it yourself! Go on, get your selfie on. And be sure to tag @shopeyeconic using #LookEyeconic when you do.