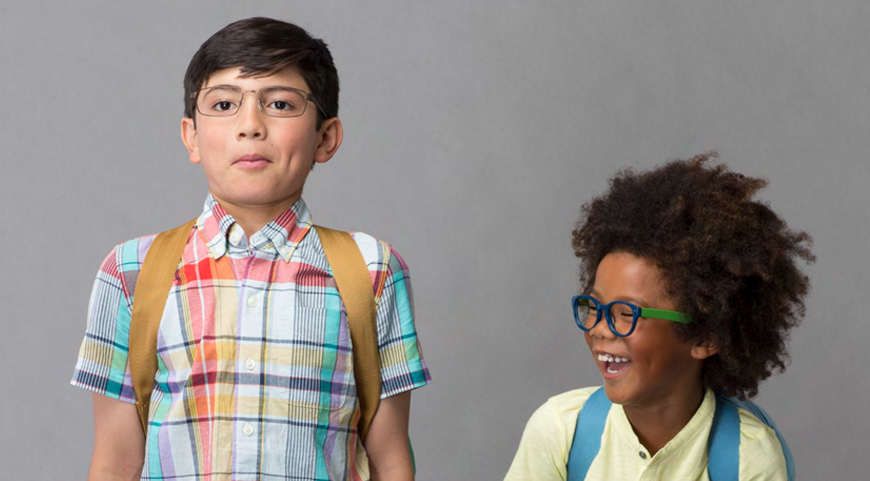 7 Tips to Get Kids Excited About Wearing Glasses
Are you having a hard time getting your child to wear glasses? If so, you're not alone. You know how important clear vision is to your children's development and learning, but your kids may not see it that way.
For kids, new experiences can be scary. Maybe they meet new experiences with gusto, but many are a little less comfortable blazing new territory.
Don't worry – the eyewear experts at Eyeconic have got you covered. We collected seven field-tested strategies to encourage kids to wear their glasses (and maybe even get excited about it).
1. Start a conversation.
Talk to your kids about the worries or questions they might have about wearing glasses for the first time.
Books make great conversation-starters. Try reading a few books together (here are a few we like) to help them feel more comfortable about wearing glasses.
Your child might only consider the negative aspects of getting glasses, so it's important to talk to them about the benefits: movies will be clearer, their favorite stories will be more fun to read, and their new glasses can be a great fashion accessory.
2. Let your kid choose the frames.
Fight the urge to pick out frames based on your own taste. After all, you won't be wearing the glasses. Let your kids pick out their new frames! There are so many kid-friendly options in eyewear, from color blocking to lightweight and durable styles. Hand over the reins and your kids will actually get excited about their new glasses.
3. Build confidence one step at a time.
Your kids might not be on board with wearing glasses from the beginning, so it's important to take baby steps. Try asking your kids to wear their glasses for fifteen minutes a day and continue to increase daily eyewear time slowly. Soon enough, they'll actually start getting used to wearing them (or they'll get tired of you nagging them and wear their glasses just to make it stop).
4. Point out high-profile people who wear glasses.
Show your kids who else wears glasses, especially people they may look up to. Have a sports-lover on your hands? Show them a picture of David Beckham in glasses. More of a music-lover? Bruno Mars has been known to sport some specs.
Find great examples of people wearing glasses so your son or daughter becomes more comfortable with their new look. All it takes is a simple Google search. You might even spot some celebs wearing eyewear styles like these from Nike.
5. Doc knows best.
Chances are good that your eye doctor has some experience with kids who aren't so excited about wearing glasses. Partner with your doctor for best practices on how to make your kids comfortable with their exams and frame fittings. And don't be afraid to go back to your eye doctor for a frame adjustment if their frames aren't a perfect fit. We can even help you find an eye doctor.
6. Cool for school.
Since you can't be with your kids every hour of the day, check in with their teachers to make sure they're wearing glasses when they need to be.
Parenting Hack: Buy two pairs of glasses, one for school and one for home, to avoid the "I forgot them" excuse.
7. Check in periodically.
Once your child starts to wear their glasses regularly (victory!), you should check in to make sure their glasses are still fitting comfortably and that they are properly caring for them. Proper care will ensure that dirty or scratched lenses don't discourage your kids from wearing their glasses. And you won't have to replace them as often!
For some frame-spiration, check out these three trends in kid's eyewear. See something you like? Shop for kid's glasses at Eyeconic (as long as they help pick them out, of course).