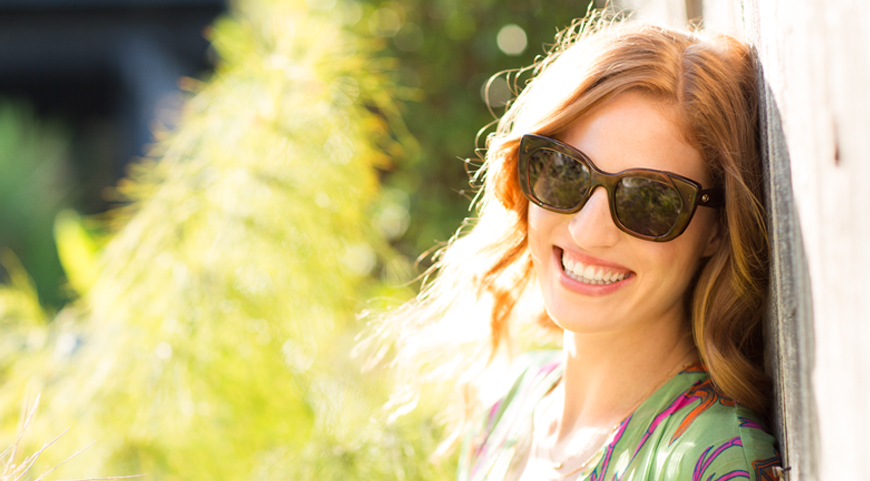 4 Tips to Keep Your Eyes Safe This Summer
4 Tips to Keep Your Eyes Safe This Summer
Summer has arrived, and with it, some of our favorite activities are ramping up. Our lifestyles and vacations have us migrating outdoors but, before we get too excited, let's talk about what it takes to keep our eyes in the game with some simple safety tips for summer fun:

1. Protect Your Eyes with 100% UV Protection

Your time outside can quickly lead to an increased risk of exposure to dangerous UVA and UVB rays, which can actually cause a corneal flash burn (a sunburn to the eye surface). You're probably spending a fair amount of time applying sunscreen, so why not make sure that you're doing the same for your eyes by wearing your favorite pair of shades this summer. All of Eyeconic's sunglasses are 100% UV proof—woot!

2. Choose Sport-Friendly Frames

Let's take a moment to talk about polycarbonate lenses because the term "eye puncture" gives all of us the heebie-jeebies. Whether you're using the
lawn edger or jumping into a pick-up game of basketball, it's important to remember your frames can do a whole lot more than make you look good.
Lenses made of polycarbonate material, originally designed for cockpits in fighter planes, can shield your eyes and prevent your glasses from cracking or shattering. A well-fitting pair of polycarbonate lenses are ideal for sports and other high-impact activities.
Polycarbonate lenses are automatically included in all prescription glasses on Eyeconic®. Learn more about the lens enhancements Eyeconic® has to offer.

3. Be Conscious About Wearing Contacts While Swimming

Wearing contact lenses to the pool? To avoid a gnarly eye infection picked up in pools or other bodies of water, use disposable daily contacts that can be thrown away. Chlorine and microorganisms can stick to contact lenses causing irritation to your cornea or even tiny cuts and infections. So, these disposable contact lenses will seriously reduce your chance of eye infection.
Eyeconic offers a variety of daily disposable contacts.

4. Pick the Right Shades for Your Journey

Driving can take a toll on your eyes and tire you out. A quality pair of sunglasses can keep your eyes perked up and focused on the road. You'll want to look for shades with the characteristics below.

Light tint: Allows more light to enter your eyes so they don't have to strain.

Try these: DKNY DK303S Sunglasses - These glasses will catch your eyes with this stylish cat-eye shape. With its color block at the hinges, this frame comes in four neutral hues that are sure to excite the fashion-loving consumer.

Polarized lenses: These cut down on glare.

Try these: Dragon DR BAILE H2O POLAR Sunglasses - Take on epic waves in these sunglasses that are a surfer-approved favorite, featuring a lightweight, floatable frame. These high-performance suns are constructed of polar nylon with hydrophobic and oleophobic lens coatings. Integrated cam hinges ensure a consistent fit, while sleek colors keep you looking great, whether on surf or sand.

Gray or green lenses: Different colors allow certain wavelengths of light to pass through; gray and green create the least amount of distortion.

Try these: Cole Haan CH7000 Sunglasses - A feminine aviator in stainless steel, this style features genuine leather-wrapped temples, metal endcaps, and a laser-etched Cole Haan logo.