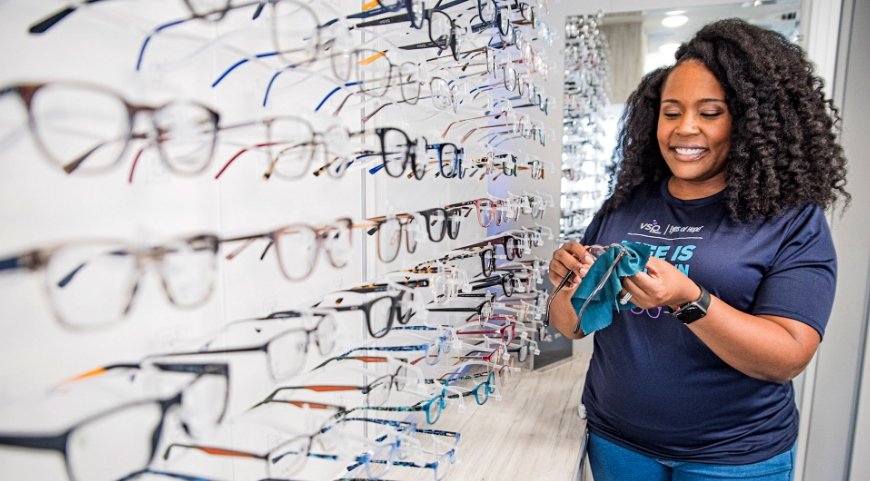 Where to Donate Your Used Glasses
Why You Should Donate Your Old Frames
Nowadays, when online retailers like Eyeconic make finding the perfect pair of glasses as simple as clicking a few buttons on your computer or phone, it can be easy to take our eyewear for granted. And when it finally comes time to find a new pair, many people simply throw away their old glasses because they assume they can't donate them.
Yet according to a report from the World Health Organization, over a quarter of the world's population—
at least 2.2 billion people
—experience some kind of vision impairment, nearly half of which could have been prevented with proper medical care. Not having access to adequate eyecare can make a drastic difference in a person's life: it might mean that a person has more difficultly with certain tasks on the job or that a child has a harder time in school.
As a company deeply invested in eye health, Eyeconic's corporate parent VSP is actively working to confront this global health crisis. Each year, their
Eyes of Hope
program donates new Marchon and Altair optical frames and sunglasses to charitable organizations around the world. But you can help, too. This holiday season, when you're looking for ways to help those in need—and the environment, too—consider donating your old pairs of glasses. And if you aren't sure where to take your old frames, have no fear: we've put together an easy guide to help you find the best places to donate.
What sorts of glasses can I donate?

You can donate just about any kind of prescription eyewear. However, you should use the same sort of judgement when deciding which frames to donate that you would use for any other piece of clothing. Are the glasses in relatively good condition, without any missing lenses or fractured frames? Do they have functioning hinges? Can they be worn comfortably and effectively by someone who needs them? If so, they're good to donate!
Where to Donate Old Glasses
Lions Club International (LCI)
Like Eyes of Hope, LCI's Lions Recycle for Sight Program is dedicated to distributing donated glasses to those who need them most. They also repurpose the materials from glasses they are unable to use, which reduces the amount of waste that winds up in landfills. Check with your
local club
to see if they're accepting glasses.
ReSpectacle
ReSpectacle offers an interesting twist on eyewear donations by allowing individuals in need to browse their website for specific pairs of glasses. Unlike the other organizations on this list, they don't have a physical donation location, but you can visit
ReSpectacle.org
to learn how to mail them your old frames.
Goodwill
You've probably donated clothes, furniture, toys, and all sorts of other items to Goodwill over the years. But did you know they accept lightly used glasses, as well? The company works with a variety of different charities to help distribute glasses to those in need. Visit
Goodwill.org
to find the location nearest to you.
Every Pair Helps
No matter where or how you choose to donate, passing along your old glasses to someone who needs them is an easy way to make a big impact on another person's life. Plus, it reduces the amount of old frames that wind up in landfills, or go to waste collecting dust in the back of closets and drawers.

And if you find yourself in need of new glasses, don't forget to visit Eyeconic.com, with frames starting as low as $93. Plus, if you're a VSP member you'll save up to $220 and get an extra 20% off on eyewear.