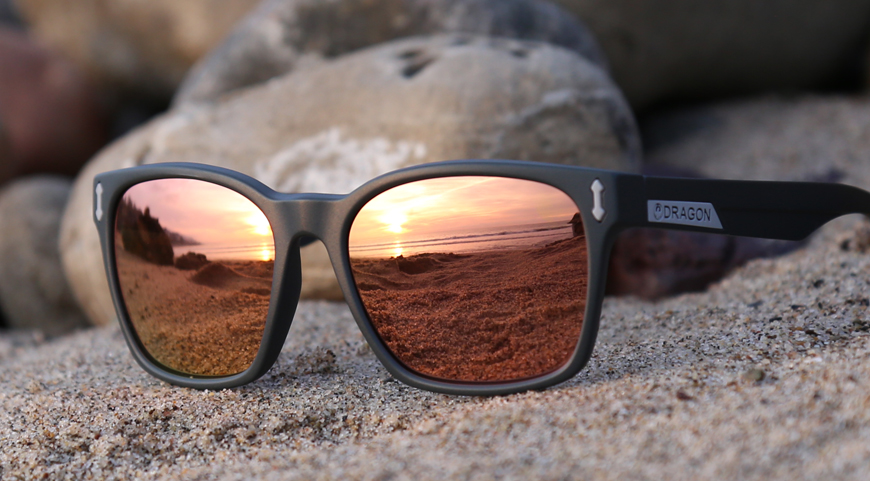 What are Polarized Sunglasses?
What are Polarized Sunglasses?
Polarized sunglasses have lenses engineered to filter out the glare reflected off flat surfaces like water or snow. They provide clear, crisp vision in harsh light and can prevent eye strain. Polarized lenses have long been a favorite of fisherman, surfers, golfers, and other outdoor enthusiasts and have gradually gone mainstream. Many manufacturers now offer this useful lens technology.

How Polarized Lenses Work?

Sunlight usually scatters in all directions, and that keeps it from overwhelming our eyes. However, in some situations it reflects off a flat surface and focuses in one direction. This is known as glare, and it can be annoying and dangerous. Polarized lenses only allow vertical rays through to your eyes, shielding you from glare. You'll also notice an increase in contrast, with deep colors even in the harshest light.

Do Polarized Sunglasses Provide Protection from UV Rays?

No, polarized lenses do not, in and of themselves, provide UV protection. However, all prescription sunglasses sold on Eyeconic are polarized and block 100% of UV rays.

Are They Right for Me?

The decision to purchase polarized sunglasses mainly hinges on how often you encounter glare. If you spend a lot of time on the water, at the beach, or in the snow, they can make the sunlight easier on your eyes.

Who Shouldn't Wear Polarized Lenses?

Believe it or not, glare is sometimes useful. It can alert you to icy patches or puddles on the ground. For this reason, polarized sunglasses shouldn't be worn when running or skiing downhill.

5 of our Favorite Polarized Shades

Eyeconic offers polarized sunglasses from major brands you know and trust. You can even apply your VSP, MetLife, or Cigna vision benefits when purchasing prescription sunglasses. Plus, VSP members get an extra 20% off on eyewear, as well as an additional $40 to spend on featured brands. Here are some of our favorite styles:

RAY-BAN RB4165 JUSTIN: Inspired by Ray-Ban's iconic Wayfarer sunglasses, these rectangular frames are the perfect blend of style and substance. A great fit for someone looking to fill out their wardrobe with a stylish new accessory

NIKE ADRENALINE P EV1114: It's all in the name. With their sleek frames and advanced optics, these sunglasses are an excellent choice for anyone who needs a pair of glasses that can keep up with their active lifestyle.

NIKE PIVOT SIX P EV1093: Lightweight frames and enhanced notepad cushioning make these a great option for the golf course or a stroll around the neighborhood. If you want a pair of frames that seamlessly blends comfort and UV protection, these are the sunglasses for you.

MAUI JIM RED SANDS: Like their namesake Kaihalulu Beach—one of the only red sand beaches in the world—these frames are one of a kind. Comfortable and colorful, these are a particularly good pick for those looking for a larger pair of sunglasses.
Not your style? Not a problem! Click
here
to see all the other great polarized sunglasses Eyeconic has to offer. You can even use our virtual try-on option to check out each frame's fit without having to leave the house. And with free shipping, free returns, and free frame adjustments, you can rest easy knowing you'll find the perfect pair.
Remember, all prescription sunglasses sold on Eyeconic have polarized lenses. If you're buying non-RX lenses, you can select it as an optional enhancement.
It's important to protect your eyes from UV damage. If it's time for a new prescription, Eyeconic can help you find an eye doctor.
Shop Polarized Sunglasses
Find an Eye Doctor