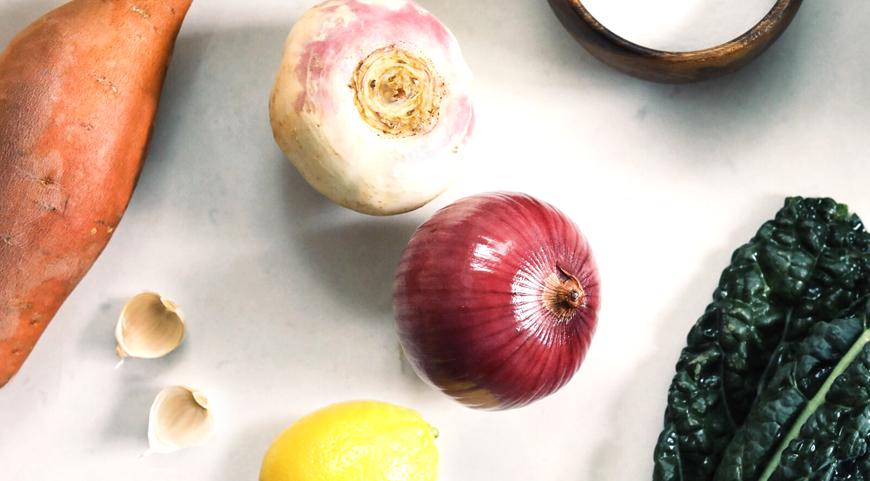 Easy on the Eyes: How to Make a Nutritious Rainbow Bowl
Eat Vitamins and Minerals to Protect Your Eyesight
Around here, we're always looking for a way to make a delicious meal that is both healthy and easy to make. But let's be honest, there aren't many meals that have both of those going for them. It's often a struggle between making something quick (hello, packaged mac and cheese) and making something that will actually nourish your body (boring salads, boo). Recently, we discovered the perfect solution to our healthy-eating blues: the rainbow bowl. The concept is simple, but the outcome is delicious and healthy. And bonus: most of the ingredients support eye health! To make the perfect rainbow bowl, focus on using a variety of fresh, seasonal veggies. You can check out this link to find out what's in season. But if you don't have a rainbow of veggies currently in your produce drawer, don't fret! You can throw in whatever you have in your fridge. Ok, let's talk ingredients. Here are a few ideas for building the perfect rainbow bowl:
Go Green for Macular Health
Let's start with the dark leafy greens. These guys pack a nutritional punch with lutein and zeaxanthins, which are antioxidants found in high concentrations in your macula (that's the part of your retina responsible for what you see directly in front of you). Plus, eating lots of leafy greens like kale and spinach will help protect your vision and reduce your risk of cataracts and macular degeneration.
Orange & Red for Broad Protection
Carrots aren't the only eye-healthy vegetable! Sweet potatoes are also a wonderful source of Vitamin A, which is the nutrient responsible for preventing dry eyes and cataracts and maintaining your current vision. It can even help improve your night vision! Oh, and don't forget about beets – they're a great source of lutein, which helps support eye and overall nerve tissue health.
Great Grains for Clear Vision
Adding some filling grains to your rainbow bowl will make your bowl more satisfying. Even better, instead of a refined grain (like pasta or bread), choose whole grains (like quinoa or brown rice) to reduce the likelihood of blood sugar spikes that can damage your retina over time. Whole grains also contain vitamin E, zinc, and niacin—all of which can reduce your risk of cataracts and macular degeneration.
Put an Egg on It
Everything is better with an egg on it. Take your meal to the next level with a perfectly poached or runny-yoked egg. Eggs are also incredibly nutritious, with lots of vitamin A, lutein, and zeaxanthin. Ok, let's get cooking! Here's a simple recipe we love, but feel free to adapt it as you feel inspired.
Simple Winter Rainbow Bowl
Prep time: 5 minutes
Cook time: 30 minutes
Servings: 1
INGREDIENTS
4 cups kale leaves, chopped 1 sweet potato, peeled and chopped
1 turnip, peeled and chopped
½ red onion, sliced in wedges
4 Tbsp olive oil
Juice of one lemon
1 garlic clove, minced
1 egg
Salt + pepper
½ c. cooked quinoa
INSTRUCTIONS
Preheat oven to 400 degrees
Sauté kale over medium heat for about five minutes until slightly wilted.
On a baking sheet, assemble kale and veggies. Drizzle with olive oil and season with salt and pepper.
Place in oven and roast for about 30 minutes. Flip veggies halfway through.
While veggies roast, make dressing by whisking together olive oil, lemon juice, and garlic with a dash of salt and pepper.
About five minutes before your veggies are ready, fry an egg on the stove – over medium or sunny side up. Veggies are ready when tender and can be easily pierced with a fork.
Assemble rainbow bowl first with quinoa, then top with veggies and drizzle with dressing.
In a few simple steps, you'll have a tasty, healthy, comforting, and easy-to-make meal!
Oh, and while eating an eye- healthy diet is a great way to protect your vision, nothing replaces a visit to your doctor for an annual comprehensive eye exam. Check out Eyeconic's Find a Doctor Tool to find an optometrist near you!
Find a Doctor Tool
Subscribe
Subscribe to our Eyeconic Newsletter for special content and offers!