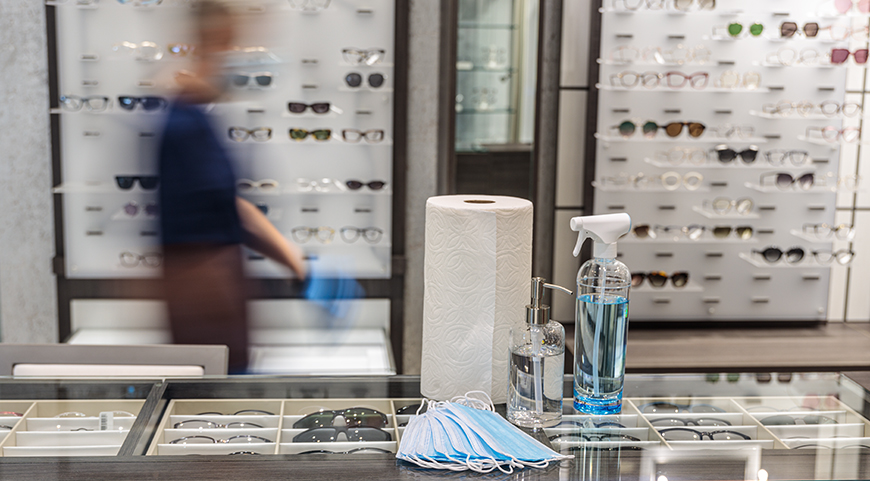 What are some tips to reduce the risk of COVID-19 at your eye doctor?
As we begin to return to certain parts of normal life, it's still important to begin with habits that will help protect you, your family, and the people you come into contact with. As always, you'll want to follow the simple steps that apply to everyone while COVID-19 precautions are still being taken.
Wash your hands throughout the day when you have the opportunity
Do not touch your eyes, nose or mouth
Avoid close contact with anyone with flu-like symptoms
If you develop symptoms, seek medical care early
Take precautions while travelling and outside of your home
Good news, as eye doctors reopen in nearly every state, you can now schedule and receive your comprehensive eye exam.
Here are some helpful and timely tips that can help reduce your risk of infection while visiting your doctor's office:
Come prepared with your own personal protection equipment (PPE).

Bring a mask
If you don't have a mask call ahead and ask if one will be provided at your appointment

Leave your partner or immediate family members at home.

Normally it'd be ok to bring a guest with you to stay behind in the waiting room. During these times, it's safer and lowers risk of exposure by coming to your appointment alone

Follow any markers or indicators that measure a safe social distance from other patients in the office.
Make use of any sanitization stations in the office or come prepared with your own hand sanitizer.
Be sure to only try-on frames that have been handled by staff and have been properly sanitized.

Should you still feel uncomfortable you can try glasses on virtually through Eyeconic.com and make your purchase online or in your doctor's office
All these measures help protect you and your loved ones as well as the office staff and their families. Stay up-to-date with the latest CDC guidelines by visiting
here
.
Need to make an appointment but not quite sure where to go?
We can help you find a doctor near you!
FIND A DOCTOR