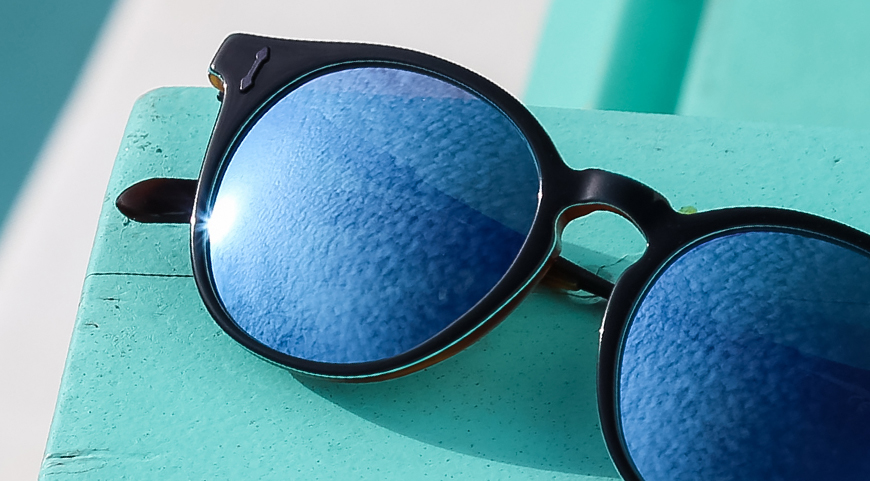 Are Mirrored Sunglasses Right for You?
Mirrored sunglasses feature a reflective lens coating that keeps a significant amount of light from reaching your eyes. Also known as flash lenses, they provide a clear view of your surroundings while keeping your eyes hidden behind a one-way mirror. In addition to blocking more light than most sunglasses, mirrored sunglasses look cool and futuristic. Flash lenses have been spotted on celebrities and style-makers around the world.

Thinking of buying new shades? Read on for a crash-course in everything you need to know about mirrored sunglasses.
How Mirrored Sunglasses Work
Mirrored sunglasses get their signature look from a very thin reflective coating that's applied to the lenses. This coating can be made of metal or other advanced materials. It's important to note that the color of the lenses doesn't affect how much light is reflected, though different colors can filter out certain hues of light.
The view from behind mirrored sunglasses usually has a grey or brown tint due to the reflective coating, but you'll see your surroundings clearly. Some mirrored sunglasses have gradient lenses, where they're reflective at the top and more transparent as you move lower.
Benefits of Mirrored Sunglasses
People choose mirrored sunglasses for a variety of reasons, including:
Additional eye protection: The reflective coating allows less light to reach the eye than standard sunglasses lenses.
Glare reduction: Since less light reaches the eye, many people find that mirrored sunglasses help reduce glare from surfaces like water and snow.
Privacy: Some people like the one-way mirror effect because it lends anonymity to your appearance. In the case of certain professions, like police officers, the person may not want others to know where they're looking.
Flash lenses look cool: There's no doubt about it—lots of people buy mirrored sunglasses because they like the style.
Types of Mirrored Sunglasses
Mirrored lenses come in a variety of colors, so you can choose the ones that best complement your style. The lens is just one consideration when buying sunglasses; grip and comfort are important, too. Choosing a frame has a lot to do with how you'll be using the sunglasses. Aviators are a great choice for driving, but mirrored sports sunglasses may be best if you spend a lot of time hiking or playing outdoor sports. Mirrored lenses are available in a wide variety of frame styles, including classic looks like the
Ray-Ban RB3025 Aviator
and sports shades like the
Nike Terminus R EV1031
.

Shop now
Mirrored Polarized Sunglasses
Mirrored and polarized lenses are two different technologies, but they can be combined to create mirrored polarized sunglasses. The difference between lenses is subtle but important and boils down to glare.

While any pair of sunglasses will cut back on glare, polarized lenses are engineered to provide the best glare protection. If glare is a major concern (like if you spend a lot of time near water or snow) you can opt for lenses that are both mirrored and polarized for maximum protection from the sun's rays.
Where to Buy Mirrored Sunglasses Online
Eyeconic offers mirrored sunglasses from major brands like Nike, Ray-Ban, and Dragon Alliance. You can even preview how you'll look in many frames by using our
Virtual Try-On tool
. Once you've found the perfect mirrored sunglasses, you can
connect your VSP, MetLife, or Cigna vision benefits
to save up to $220 on prescription lenses. First time wearing flash lenses? Don't worry! Eyeconic offers free shipping and returns on all orders, just in case it isn't the right look for you.
shop now