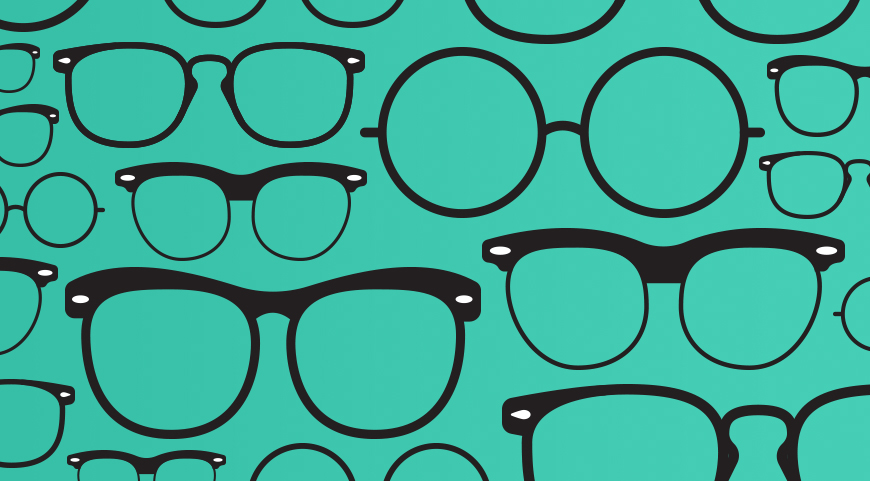 History's Most Iconic Glasses
There are plenty of musicians, athletes, and politicians that wear glasses, but some just stand out more than others. In fact, there are so many that it's hard to pare them down. But today, we're doing a roundup of our favorite, most iconic glasses. Each entry is also linked to similar pairs available at Eyeconic, just in case you're inspired to switch-up your own style.

Buddy Holly's Bold Frames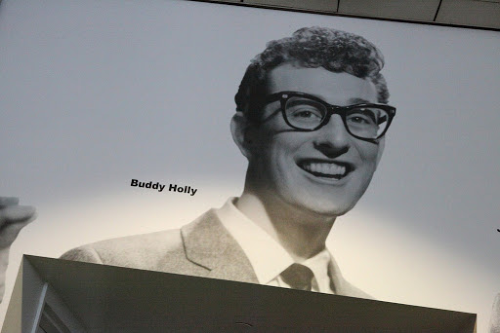 Buddy Holly is best known for his music career, glasses, and pre-mature death from an airplane crash at the young age of 22. More than 50 years after his death, Buddy Holly remains
the
symbol of nerd chic glasses. Many don't know that the glasses he wore weren't chosen by Holly. His optometrist, Dr. J. Davis Armistead, believed that while Buddy preferred inconspicuous frames, he should wear a thick, bold pair that would help convey the big personality needed for a performer. He found the soon-to-be famous Faiosa frames in Mexico City and knew that they were the perfect pair.
So, what ever happened to his famous frames? During the 1959 plane crash they were thrown far from the wreckage and weren't found until the snow thawed the next spring. At that point, they were given to the sheriff's office and stored in an envelope until 1980, when the unassuming package was opened by the sheriff and the glasses were returned to Holly's widow. They are now on display at the Buddy Holly Center in his hometown of Lubbock, Texas.
Get Buddy Holly's look:
MCM 2637A Frames
Salvatore Ferragamo SF2800 Frames
See More Rectangle-frame Glasses

Eleanor Roosevelt's Two-tone Glasses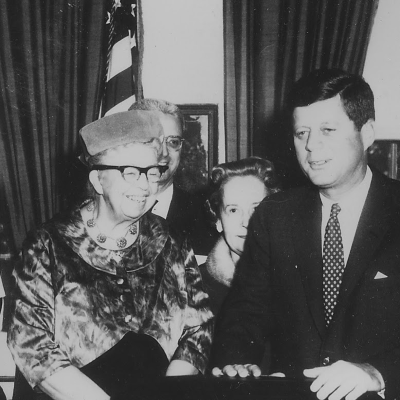 Eleanor Roosevelt has a list of achievements a mile long. She was the longest-serving First Lady of the United States, but she was so much more than that. She served as the U.S. Delegate to the United Nations General Assembly, wrote 8,000 articles for her newspaper column "My Day," and was an outspoken advocate for African Americans, Asian Americans, and refugees. She also advocated for women in the workplace and was the first Presidential spouse to hold press conferences (along with countless other accomplishments).
With all of her achievements, it seems trivial to point out how stylish her glasses were. Yet, she was a style icon for many women. In 1962, she was pictured with JFK while serving as 1
st
Chair of the Presidential Commission on the Status of Women, smiling and wearing two-tone plastic glasses, which were popular in the 50's and 60's.
Though she was photographed sans-glasses many times when she was younger, she wore glasses more frequently in her old age, and they complemented her style nicely.
Shop Eleanor Roosevelt's Look:
Nine West NW8002 Frames
Calvin Klein CK5936 Glasses
Nike 35KD Frames

Mahatma Gandhi's Round-frame Glasses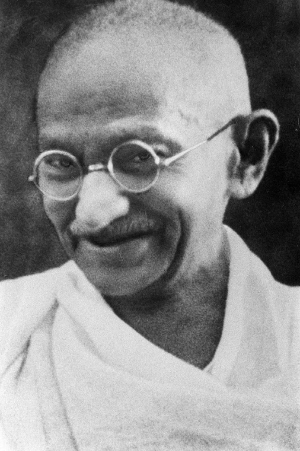 Mahatma Gandhi purchased his first pair of glasses in London sometime in the 1890's as a fashion accessory. He didn't begin wearing them daily until late 1921 during a protest of communal rioting. This happened at the same time he began shaving his head, abandoning the Western clothing he had formerly worn, and dressing solely in a traditional dhoti and shawl.
He became the leader of the successful Indian independence movement, which inspired others around the world. In the 1940's, he undertook several fasts to protest religious violence between India and Pakistan, but was assassinated in 1948 by a Hindu nationalist. His memory continues to inspire, and his birthday has been memorialized as a national holiday in India. It's celebrated around the world as the International Day of Nonviolence (Oct. 2).
In 2012, Gandhi's iconic round metal eyeglasses with their original case sold at auction for £34,000— double what was originally expected. They now reside in the Gandhi Museum in Madurai, India.
Get a Look Inspired by Mahatma Gandhi:
Calvin Klein CK5449 Frames
Flexon Edison 600 Glasses
Chloé CE2136 Glasses
Flexon Autoflex 53 Frames
JOE 4032 Glasses
Shop More Round-frame Glasses

Kevin Durant's Signature Style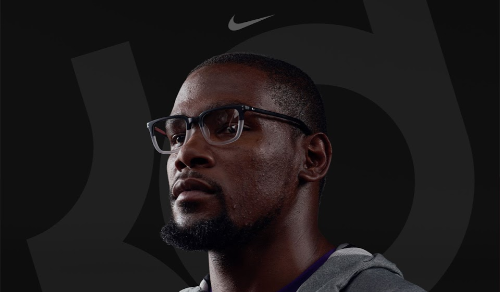 OK, it's true that Kevin Durant doesn't
need
glasses, but he often wears non-prescription frames to accent his off-court style - and he looks great doing it. Durant made history with the Golden State Warriors, helping the team snag the World Championship title in 2017
Durant is the only figure on our list with his own line of eyewear, Nike KD glasses. His collection is made of high quality, durable material that's at home on or off the court.
Get Kevin Durant's Look:
Nike 38KD Glasses
Nike 36KD Glasses
Nike 37KD Frames
Shop the Nike KD Collection
Sources:
https://en.wikipedia.org/wiki/Buddy_Holly
http://www.history.com/this-day-in-history/buddy-hollys-glasses-lost-since-his-death-in-1959-are-found-in-mason-city-iowa
https://en.wikipedia.org/wiki/Eleanor_Roosevelt
https://www.independent.ie/life/health-wellbeing/eye-health/sponsored-feature-spectacular-most-iconic-glasses-of-all-time-26869201.html
https://www.quora.com/How-did-Gandhi-choose-his-style-of-glasses