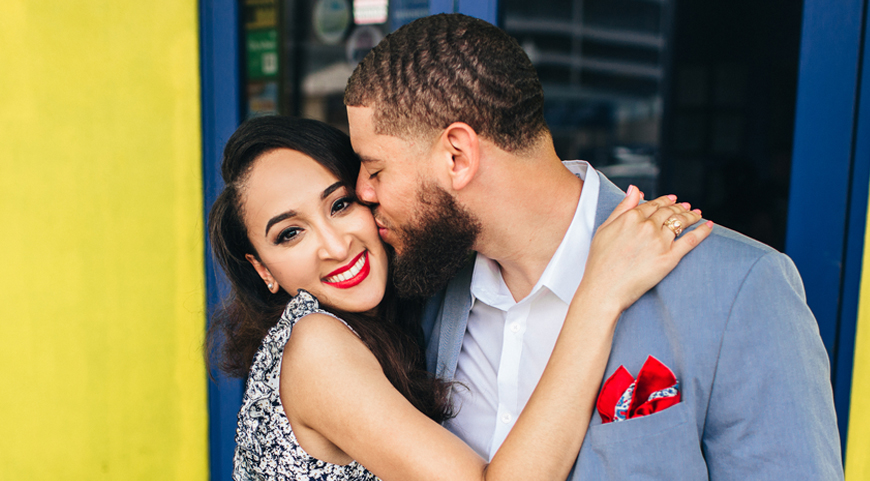 Is It Love or Lust? The Answer Might Be in Your Eyes
Have you ever been on a date and wondered, "Are we in love or is this just lust?" The answer could be revealed in the way your date looks at you (or the way you look at your date).
A study from the University of Chicago found that the difference between love and lust can be distinguished from the way you look at a person. Eye patterns that concentrate on your face might mean your partner is interested in pursuing a romantic relationship with you. However, gazing down at your body might mean they're feeling sexual desire.
Here's how researchers came to this conclusion. They asked students from the University of Geneva to view a series of black and white photos of strangers. In the first part of the study, the students looked at photos of young, heterosexual couples who were either looking at
or interacting with each other. In the second part, the students viewed photos of members of the opposite sex who were looking directly into the camera.
The students were asked to look at these photos and quickly decide whether they thought these images either depicted or elicited feelings of romantic love or sexual desire. Interestingly, the study found no significant difference in the time it took to identify romantic love versus sexual desire. According to the researchers, this shows how quickly the brain can process feelings of lust and love.
Even more interesting, the study found no difference in eye patterns between male and female participants. For example, both male and female participants moved from the faces of the people in the photo and fixated on the body when they felt sexual desire toward that person.
Why does this matter? Well, according to the co-author of the study, the results show that knowing this information "…may contribute to the development of a biomarker that differentiates feelings of romantic love versus sexual desire. An eye-tracking paradigm may eventually offer a new avenue of diagnosis in clinicians' daily practice or for routine clinical exams in psychiatry and/or couple therapy."
Thanks to the findings of this study, not only will you be able to tell if your date is looking for a long-term relationship with you, you might one day use their eyes to know if you're compatible in the first place.
Looking for love in all the wrong places? Shop Eyeconic to fall in love with high quality eyewear that always loves you back.