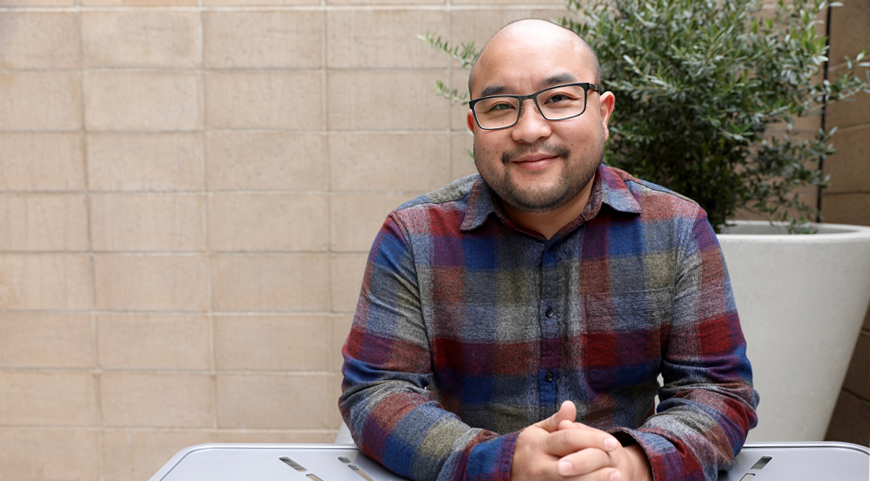 Employee Interview: Grant Kuroko, Eyeconic Customer Care
We love our customers. That's why we have a team of folks dedicated to making sure they have the best experience with Eyeconic®. We're excited to introduce you to one of those kind hearts who goes above and beyond to make sure you're on the "happy path."
Grant Kuroko loves to surprise and delight our customers. To learn more about how he does it, keep reading.
As a member of Eyeconic's customer care team, Grant Kuroko is tasked with resolving concerns so everyone walks away happy. Grant relishes a challenge, whether it involves making a stressed-out customer smile or scaling a cliff. We sat down with Grant to learn more about his job and interests.
Tell me a little bit about your background. How did you get started in
customer care?
I came to Eyeconic from VSP® Customer Care. I've worked many different jobs, but my main experience is in sales and customer service. Before VSP and Eyeconic, I worked as a production manager for an auto accessory company and for Wells Fargo as a private banker.
What's a typical workday like for Grant?
The whole team is responsible for what we call the "happy path." The happy path consists of orders that have everything we need to process quickly. I also monitor our social media channels: Facebook, Instagram, Twitter, etc. connecting directly with our customers. It's my job to make sure we get them the answers they need and do my best to fix any concerns they have.
Sometimes I'm able to choose customers to surprise with swag when they're not expecting it. In addition to connecting with our customers online, I also monitor our order fraud software.
Last year we had a surprise and delight campaign with a list of customers we wanted to send holiday gifts to. The Eyeconic team worked together in groups to choose what gift to send to each customer. In the process, we did research to try and learn what each person might like.
One customer, who previously had a negative experience, received a gift pack from us. To our amazement, she posted a heartfelt thank you online explaining that she had been through a lot of hardship recently and her mom was recovering from cancer treatments. She planned on using items, like a water bottle, from the gift pack for her mother's rehab.
It's moments like this with customers that make us more than just a website that sells eyewear and it's rewarding to know we can help. It boosts the morale of the team, feels good to know that we made a difference in her day, and it's motivation to keep doing what we're doing.
What do you enjoy most from customer care?
The most rewarding part of my job is actually receiving negative feedback on social media, a place where anyone can see it. This allows me to fix the issue and gain a customer's trust back. It's not always a win, but it's a challenge and it's important we do our best to represent our brand. Complaints are not always a bad thing; some of them turn into website improvements. The voice of our customers helps us better a future customer's experience.
What would you share about customer care that most people wouldn't realize?
We truly want to help! Some people think we're here to put up road blocks or upset them but we go above and beyond to fix problems. Sometimes we need to ask a lot of questions to make sure we're providing the right solution and the more a customer works with us, the easier it is for us to help them.
There are also people who just need to vent and be heard. Letting them know that I'm the one that's going to find the solution and make sure they don't have to call back can be the most important part of our interaction.
Can you share a customer care experience you'll never forget?
Occasionally, we get funny things in returns. Once we received an ice cream machine (without any tasty ingredients ☹) that was meant for another retailer and we assumed they were just as confused when they received Eyeconic glasses!
When you're not hard at work here at Eyeconic, what are you doing?
I love being outside and now that the weather's getting better, I'll be hiking and grabbing a beer at one of the ever-growing list of local breweries around Sacramento. I'm also an avid climber - indoors or outdoors - it's all fun.
I'm also working on some personal development and taking UX (user experience) classes to learn more on how we can improve our customer experience and for career development.
Any other downtime I have is spent with my dogs Barkly and Bailee.