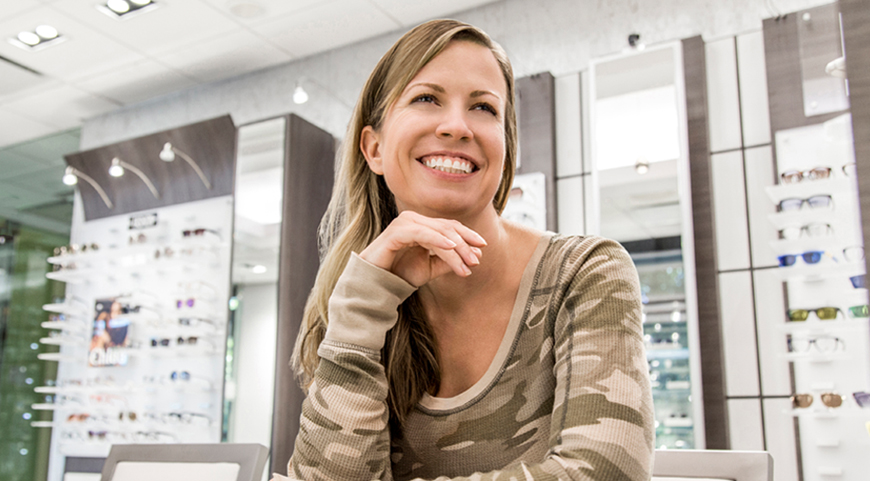 Q&A with Eyeconic® Fashion Buyer Sarah DeArton
Sarah DeArton has a resume stacked with unique experiences that landed her with Eyeconic as a buyer. In this interview, she takes us through what her job is really like, the challenges she faces, and the advice she has to offer young professionals entering the fashion and buying world.
Most of us have no idea what it's like to be a fashion buyer. What's the reality?
It's a hard hard life!! JK. Being a buyer is a lot about observation and analysis. I need to stay up with what's current in fashion, and understand what trends are coming in the future.
I take a lot of risks in the styles I choose and love watching how they resonate with our customers. There's always a ton of learning from what works and most importantly, understanding why something didn't work.
Surprisingly, a lot of what I do is breaking everything down into numbers. My background is in finance, so analyzing and forecasting what I think are going to be big sellers is crazy fun to me.

What countries do you buy from, and how do their styles differ?
I take a look at the eyewear industry from a global perspective and purchase from Italian, Nordic, and American companies.
Most brands originate in Italy, which happens to be the eyewear capital of the world. Families go to work making frames for generations and take pride in the quality and craftsmanship of their work. They're definitely the most adventurous when it comes to style.
As you might expect, Nordic styles embrace metal minimalism and focus on simplicity and high-quality materials that are going to last.
American frame companies are all very different! We have everything from sailing frames with Nautica to the street style frames of MCM.

What challenges do you face in retail buying?
You're making bets, so you have to feel comfortable with a job where there is no right or wrong. My world is grey and grey!
I also think outside of my personal style and what I like. I look at what styles different ages, ethnicities, and genders expect to see in their eyewear selections.
Shopping for a pair of glasses is a personal experience for our customers. Frames and sunglasses become an extension of their personal brand they share with the world. I want to elevate everyone's opportunity to be unique, so I work diligently to find eyewear that truly represents individual personality. At the end of the day, customers should feel empowered to rock their eyewear as a true extension of themselves and their style.
To help me in this process, I pull from the people I'm surrounded by at work and in my personal life. I'm inspired by looking for pieces that match the style vibes of all their unique personalities.

What are some of the more glamorous aspects of your job?
Honestly, this is going to sound unreal, but my job checks all the boxes. I'm able to come into work every day to something different. At the end of the day my job combines all aspects of my personality and strengths.
I love to shop
I love design
I love travel
I love retail
I am OBSESSED with customers
…and to top it off, I get to geek out and work in spreadsheets, which is a special love of mine from my days in finance.

How do you know what will work?
Some styles are easy to know. Black glasses with a rectangular shape will sell all. day. long.
But I really think that Eyeconic customers are wanting something a little bit more expressive than the usual basic frame. When I look at styles, I definitely push the boundaries; I want our customers to feel excited about the glasses they buy. I want them to feel adventurous in their glasses and to view buying eyewear as fun, because it should be!

What do you find most satisfying about your job?
I love to see the frames I gather come full circle. I follow the hashtag #lookeyeconic to catch our happy and confident customers sharing selfies of themselves or with friends and family wearing their new glasses.

What's coming up in your fashion radar?
I'm seeing
cat-eye frames
on the rise, and not the subtle shapes you're used to. I'm talking bold, strong cat-eyes that are commanding attention. Me-ow!

What advice do you have for those looking to venture into a career in buying?
Don't go into buying because you think it's solely fun and carefree!
There is a ton of analysis and spreadsheets that are part of my daily life. My advice? Get as much financial experience as possible. It will be instrumental for your success. When it comes to what you purchase, don't take yourself so seriously. Sometimes you pick winners and sometimes, not so much! Enjoy the process and learn from every opportunity. And by opportunity, I mean… the non-winners of the bunch.
Want to see what Sarah has stocked?
Visit Eyeconic Now