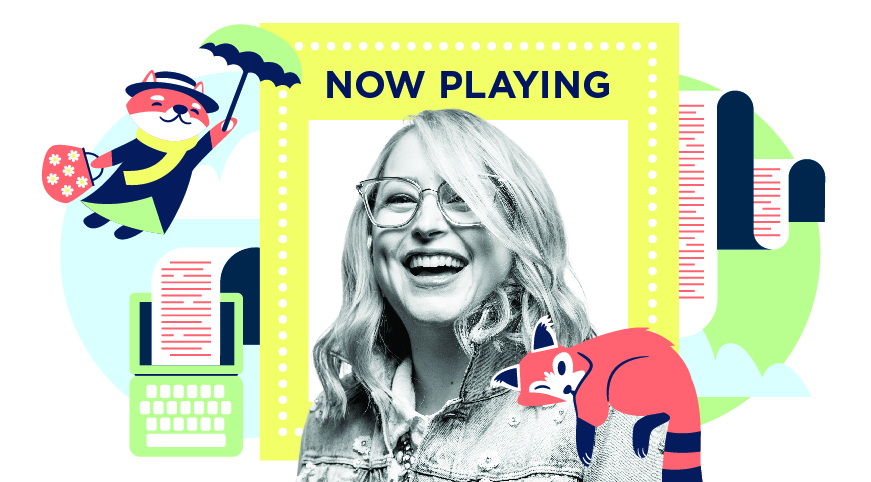 Employee Interview: Allison Baker, Eyeconic Brand Mastermind
The voice of Eyeconic, the mastermind of puns, the...dog nanny? We give you: ALLISON BAKER. Allison is Eyeconic's Senior Copywriter who makes the world go 'round. She also makes everyone laugh wherever she goes—which makes meetings at work absolutely fabulous. Keep reading to learn why we love Allison's fun and quirky self!
She is a local comedian
Allison:
I perform improv comedy a few times a month. Most people would rather die than perform comedy on the spot, but I find it strangely energizing and fun.
When I signed up for my first improv class, it scared the daylights out of me. I loved comedy so much I was afraid to be bad at it. In the classes I took at Sacramento Comedy Spot, they really train the fear of failure out of you—it's the only way to be successful. I think that way of thinking has made me a better writer too.
She is Eyeconic's brand voice
Allison:
Working as a creative copywriter for Eyeconic is truly my dream job. I get to write puns and look at gorgeous eyewear all day. I still can't believe I found a job so well suited for me (and neither can my parents, ha!).
She LOVES red pandas
Allison:
It's accidentally become part of my personal brand. A few years ago, my fiancée sent me a photo of a red panda with its tongue sticking out. I immediately made it my home screen on my phone and people always ask me if it's my dog. I wish, I just really like red pandas! If I ever meet one, I'll be like Kristen Bell with a sloth—I'll freak out.
She's a proud member of the "Bourbon Babes"
Allison:
My friends and I started a group that was supposed to be us hanging out and trying new whiskey. We started doing it every month where one of us would buy a bottle of bourbon and we would have snacks and quality time. Two of the girls created an Instagram account for it, and all of a sudden whiskey and bourbon became a thing that everyone wanted to talk about, and it became trendy. Suddenly we had 20k followers. Don't tell them, but my guilty pleasure is rye whiskey—it's not even bourbon!
She spent a year after college graduation in London...as a dog nanny
Allison:
Yup, I was Mary Poppins for a dog. I got to stay in an old, gorgeous house a block away from Buckingham Palace. My whole job was to make sure to feed and walk a 14-year-old Shiba Inu in London and I just about had the best year of my life.
She has a nut allergy
Allison:
Less exciting, but a good fact to know about me. When I was a kid, I was supposed to wear a gaudy bracelet that warned people about my allergy. I was embarrassed to wear it, so my mom had one made special for me. It was very dainty and had my name in cursive on the front, a charm with a medical alert symbol on it, and the back just said, in all caps, NUTS. I'm not sure that got the right idea across. I wish I still had it.
She is "dog crazy"
Allison:
I love animals. Some people are baby crazy...I'm dog crazy. We don't have the room for a dog right now which breaks my heart. But I'm hoping within the next year we'll get one. My fiancée is one of those practical people who's like, "We're never home." Which I get—but I'm secretly hoping I'll come home one day to a puppy. A girl can dream!
From Allison's Supervisor
"Allison is vital to our team. She's the brand voice and wrote everything in our two Chicago stores. She makes everyone want to be productive and is the person you go to if you are stuck on something. Working in a creative space with someone quick-witted like Allison makes all of our jobs more fun and imaginative."
Allison's Approach
Allison is known for her fun fashion, and her eyewear selection is no exception. Her current favorites are these
metallic Chloe eyeglasses
and transparent blue
Salvatore Ferragamo sunglasses
.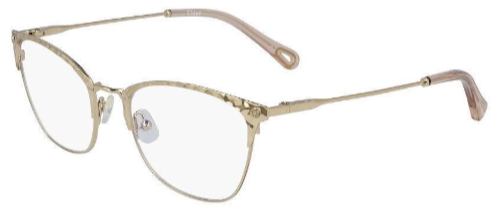 Shop the Frames