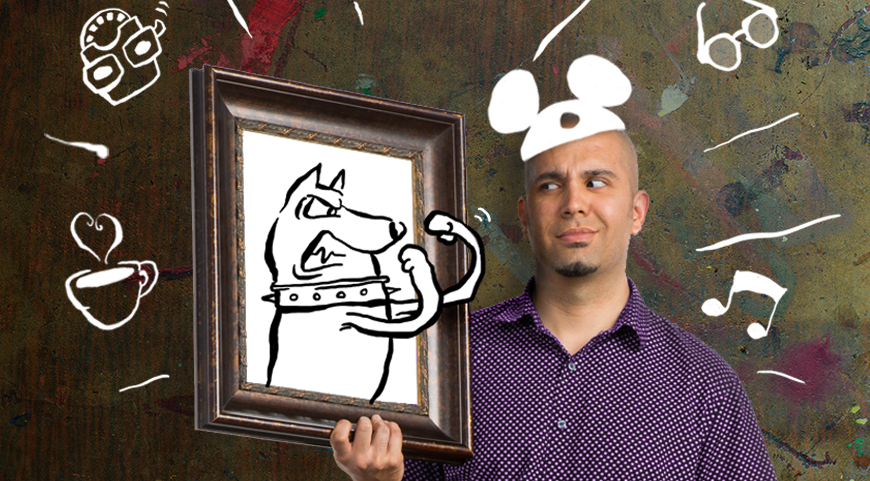 Employee Interview: Erik Hosino
Employee Interview: Erik Hosino
What do you say we take our relationship to the next level? It's our pleasure to introduce you to a more personal side of Eyeconic—our people. By sharing some of the faces and stories of Team Eyeconic, we also hope to learn a bit more about you, too. So, let's get better acquainted, shall we?
Today we sat down with Erik Hosino, our go-to guy for creative. He has his hands on the website and many of the pictures you see on Eyeconic and much more. Keep reading to find out what brings him solace after a long day of pushing pixels.
Tell me a little bit about your background. How did you get started in the field?
I've been an artist—per se—my whole life. I've been drawing for as long as I can remember. Through my childhood, well into my teenage years, I was pretty set on being an animator and into film making. I graduated high school around the time feature animation was making the shift from hand-drawn to computer-generated. I wasn't really interested in that. After high school, when I was trying to decide what else can I do artistically and not starve, is when I started to learn a little bit more about graphic design. I started taking classes at the junior college fresh out of high school and really took to graphic design. The rest is history.
Describe your typical workday.
My day is pretty varied. I spend a decent portion of it in meetings planning out strategies and understanding what it is that the customer needs. From there, it goes into design where I try to wrap all of the requirements, wireframes, copy, and images from our photo shoot into a nice layout that hopefully translates into a positive customer experience. I spend a lot of time at my desk hashing out designs; doing a lot of sketching, and then laying it out on the computer.
What do you enjoy most about your job?
I'll give you two things. One, I love that I actually get to do what I love. I consider myself lucky to be in the minority of people who actually enjoy what they do. That's not to say every day is super easy, but I get to do art, I get paid for it, and I love it. Secondly, I enjoy getting to reach out to and create connections with customers.
What do you want people to know about your job?
That graphic design is a lot more than just putting a pretty bow on things. I think it's easy to over simplify what we do; it's not just making things look beautiful. There's a lot of strategy that goes into what we do. It's art and there are principles of design that you have to apply to effectively communicate with people, but there's also the psychological aspect. We have to understand what resonates with people, whether it's color combinations or how people process information.
What's your favorite form of design and why? (Drawing, painting, illustration, etc.)
That's a tough one. Selfishly, it's probably painting. Not that what I do here isn't satisfying; it really is. But I feel like the painting rounds out the graphic design. There's something really nice about going home at the end of the day, letting art flow out of you and not worrying about what problem are you solving, but just having something organic. Painting—like drawing—has always served as a great creative outlet for me. It's good for stress reduction and tapping into other aspects of my brain that I don't necessarily use at work or in other parts of life.
What piece have you done that you are most proud of?
It's a painting in my dining room. It's a mix of illustration and typography done in the style of an earlier 1900s Mexicana piece. My wife ended up liking it so much she told me I couldn't sell it, so it ended up in our dining room. It's a piece I'm really proud of. I can actually stand to walk by it every day without mentally picking it apart or obsessing over what I should've done differently.
You're a new addition to the crayon box, what color would you be and why?
If I had to pick a crayon color that I wanted to be, I'd say it's pure red. I'd call it "The Fire Inside." I'm particularly drawn to red because, in addition to just liking it as a color, I think it's the most evocative. As a designer, I appreciate the connection between color and emotion. Red can instantly conjure feelings of passion, energy, anger, and more. As a designer, the color red is a powerful tool to have in your box. It should be used wisely; a little bit can go a long way.
There is more where that came from, so keep your eyes open for more interviews to meet the team that creates a more human way to buy eyewear online.