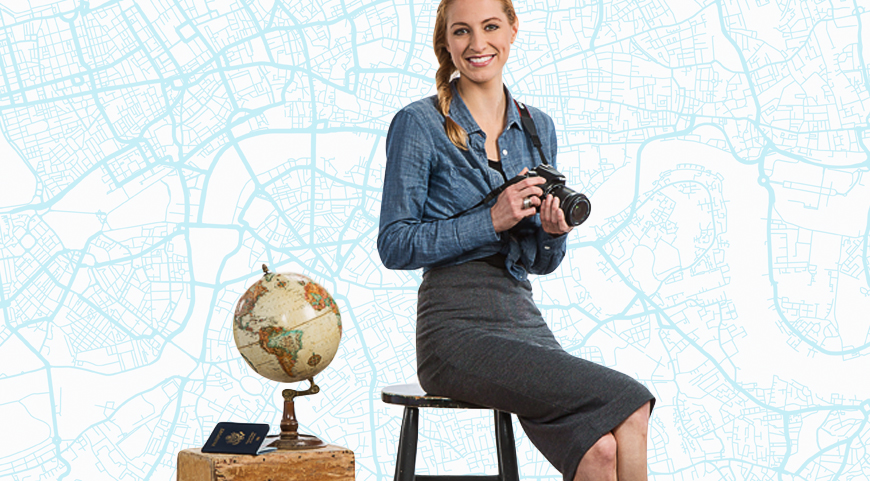 Employee Interview: Leila Ertel
Employee Interview: Leila Ertel
Eyeconic's best asset is our people. They're smart, creative, and they have the whole work hard, play hard thing down pat.
To show you what we mean, we're profiling some of the peeps we don't know what we'd do without.
Today, we're introducing you Leila Ertel. When she's not making our social media scroll-worthy, she's globetrotting. Read below to live vicariously through her travels.
Describe your typical workday.
My typical work day varies day-to-day because that's the nature of social media. So, some days I might be on a photo shoot. Other days, I might be in internal meetings all day or meeting with an influencer. While there isn't really a standard day, I'm always busy from start to finish. That's something that stays constant.
What made you want to work for Eyeconic?
I have a background in e-commerce. When I moved to Sacramento, I didn't expect to find an opportunity in e-commerce. Luckily, I stumbled upon Eyeconic and it was a great fit! I've been working here for 2.5 years in content marketing (email, social media, and blogging).
What do you want people to know about your job?
Social media doesn't mean that you're surfing the internet all day (I wish). I have meetings and desk work just like anyone else. In fact, I spend more time in meetings, reporting, and researching best practices than doing the "fun stuff."
Where is your favorite place you've traveled to?
I'm bad at picking favorites so I have three. Italy for the food, scenery, and art. Israel for the food (it's always the food)! The third is Brazil. I've spent a total of four months in Brazil split up between two trips. The people there are amazing; they're so friendly. They'll take you in make sure you have everything you need: food, entertainment, and they introduce you to everybody they know. I learned a lot from my time in Brazil; I think it helped make me a more open person.
What is your favorite travel memory?
I have a lot of fond travel memories but one definitely stands out to me. In 2008 I spent 8 weeks in the Yucatán, Mexico. I was traveling alone but I met some people in my Spanish class and we took a colectivo (mini-van/bus) from Playa del Carmen to Akumal. Akumal means "place of the sea turtle" in Mayan and they're not kidding. We went out there to snorkel in a bay with just masks, no flippers and there were so many sea turtles. It was the most incredible thing. They were everywhere. There were tiny ones and big ones. They were so close I could have reached out and touched them if I wanted to but I was afraid to upset them. For me it was the most magical experience because I love sea turtles so much. Since then, I've had similar experiences snorkeling but I've never encountered so many at once.
What are some travel hacks you swear by?
That's a hard one. One that I use every month is the flight predictor on Kayak.com. It tells you if you should buy your flight now or to wait to buy your tickets. It actually works. It saved me about $200 on my last flight to Chicago.
Another hack for last minute travel is Hotel Tonight. It's an app where you can book a hotel that night with a deep discount. I've even been able to book a dog-friendly hotel same-day and it's a much lower price than what you would pay online.
My third hack isn't all that ground-breaking but I highly recommend investing in high-quality zipper pouches in several sizes. It helps me quickly organize my suitcase and keeps my belongings safe and clean. I have them for toiletries, makeup, jewelry, and two for undergarments (one for clean, one for dirty). I also have dust bags for my shoes and purses so that they don't get my clothes dirty. I used to just throw everything together, other than a couple plastic Ziploc bags, but this way is more eco-friendly and works better for me.
Where to next?
I'm going to Africa (Zanzibar, specifically) for a beach vacation then Polokwane for a wedding, Kruger National Park for a safari, and stopping in Cape Town for a few days on the way home. We also have a nine hour layover in Istanbul on the way back so we plan on leaving the airport and seeing a couple things.
There is more where that came from, so keep your eyes open for more interviews to meet the team that creates a more human way to buy eyewear online.