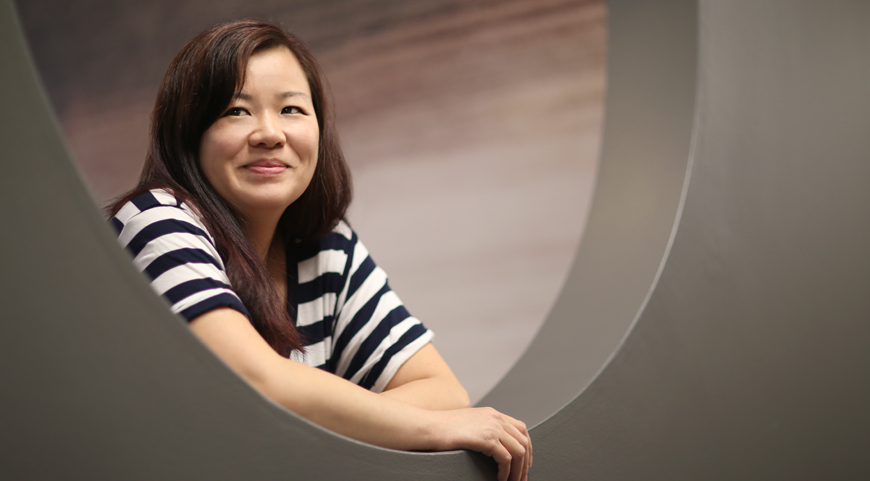 Employee Interview: Mylene, Eyeconic Customer Care
We love our customers. That's why we have a team of folks dedicated to making sure they have the best experience with Eyeconic®. We're excited to introduce you to one of those kind hearts who goes above and beyond to make sure you're on the "happy path."
Mylene Mac works hard to apply her career experience in quality assurance to everything Eyeconic customer care. Keep reading to learn more about how she does it.
As a member of Eyeconic's customer care team, Mylene is tasked with reviewing processes and managing quality assurance. Mylene finds opportunities to build the best customer care experience she can in her day-to-day work and shares them with her team. We sat down with Mylene to learn more about her role and interests.
Tell me a little bit about your background. How did you get started in customer care?
I've been in the vision care industry for the last 17 years, starting as a doctor's assistant and managing practices. Early in my career I began learning more about eyewear and developing an appreciation for frames, so I trained to become certified by the American Board of Opticianry. As an optician, I'm qualified to make and supply eyeglasses and contact lenses.
It wasn't long until I found myself working at a major retailer as an eye care supervisor. There, I worked closely with doctors and managed processes that kept services running smoothly.
Eventually, the store I managed was set to close when the construction of the Sacramento Golden 1 Center began. Originally, I planned to take a six month break from working to travel. To my surprise, I was immediately recruited by Eyeconic after my store closed.
Once on the team, I oversaw the evolution of Eyeconic's quality assurance and hand-inspected all frames before they were sent out. Fast forward four years to today, and our lab now handles our 25-point inspection.
What's a typical workday like for Mylene?
My typical workday really depends on the week. Some weeks I work with our product and platform team to optimize our processes and other times I'm processing orders, verifying prescriptions for our customers, or coaching the team on quality assurance.
I routinely take a month's worth of orders and randomly select files to monitor for consistency and grade them against the Eyeconic standards. When I find an order that doesn't meet our set standards, I use it as an opportunity to train and coach our team on the core values of Eyeconic's customer care.
What do you enjoy most about customer care?
We always keep busy in customer care. There is NEVER a dull moment or a lack of work to be done. Each day brings new challenges that keep us on our toes.
What would you share about customer care that most people wouldn't realize?
We're a team of nine people. Most customers don't know that we're such a small crew. Being on a team of our size makes the connection to the customer more personal and motivates us to find solutions working together as quickly and efficiently as possible.
Can you share a customer care experience you'll never forget?
I was fortunate enough to travel to New York for three months for Eyeconic. There, I worked closely with our labs, using my background in quality assurance, to help develop processes in our labs and with our business partners.
When you're not hard at work here at Eyeconic, what are you doing?
All my spare time that I have is spent it with my son, Matteson, Mattey for short, who's turning 18 months soon. You can find us at the park and out shopping. He also has a ton of energy so anywhere he can run free, he's happy. We're planning a trip to Seattle to visit museums and landmarks. He's already been to LA to visit family and a few quick trips to Lake Tahoe. After Seattle, we'll be planning a trip to Disneyland at the end of the year for his 2nd birthday.