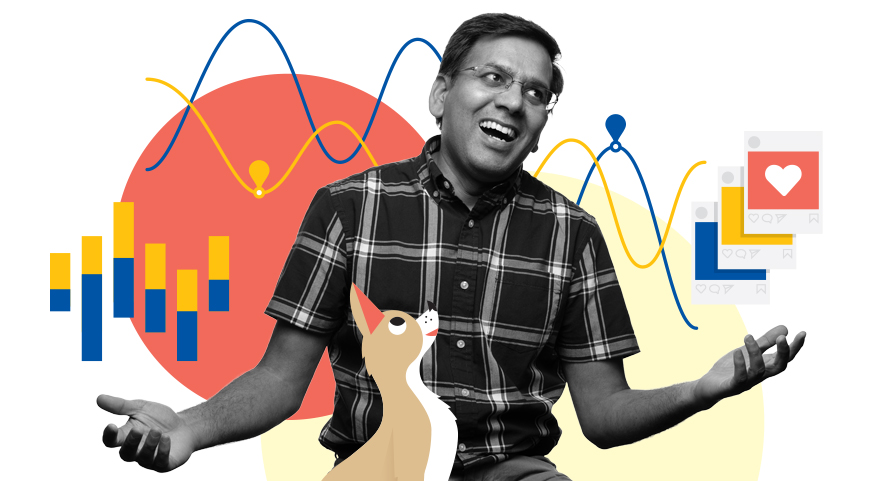 Employee Interview: Raghu Singh, Eyeconic Data Guru
Meet Raghu, he's Eyeconic's Senior Marketing Analytics Intelligence Specialist (say that 5 times fast!). Raghu may spend his days sorting through Eyeconic data, but it doesn't stop him from connecting with all of us and reminding us of the importance of selfcare. Keep reading to see how he shares positivity daily and got the nickname "Office George Clooney."
He has very inspirational social media posts.
Raghu:
Every time I listen to the news, it's always pretty negative. I try to post positive things so that if I'm sad or someone else is, they can see at least one thing a day that spreads positivity. I have a hobby of taking photos to post on social media. Some of them are pretty good but I'm still learning.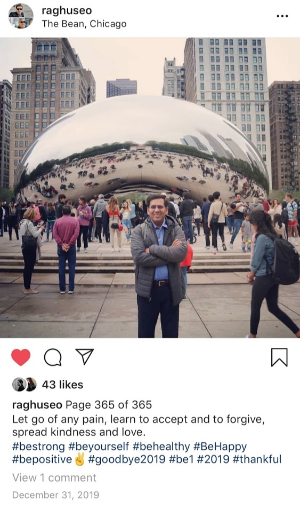 He is an avid dog lover!
Raghu:
Yes, I have my fur baby named Ruby who is really cute. Sometimes I call her Bambi. She understands Hindi, English, and Punjabi--or at least we like to think she does. I love her and she's a strong member of our family. We rescued her when she was 6 weeks old from the shelter and she was the size of a small squirrel. We feared large birds taking her away, so she never went unsupervised outside.
In the beginning, my wife had a big phobia of dogs. She never had a dog as a child. After bringing Ruby home, she's completely changed. She has a better understanding of puppies and dogs and has learned to love them. Now the first thing she does when she comes home is talk to and pet Ruby and make sure she has treats and water. They are the best of buddies.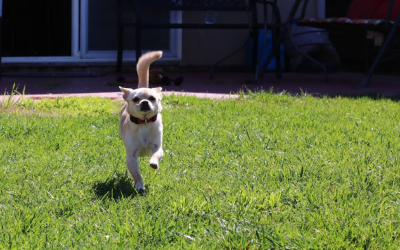 He likes karaoke and makes a great MC.
Raghu:
When there's any event happening and nobody wants to volunteer, I'll volunteer. Life is short, we have very limited time to live it; so why not live it positively and happily? I've MC'd many office baby showers, bridal showers, and celebrations.
I used to be the shy guy, man with few words. I noticed that once you open up and talk to people, they remember you. Even if you're afraid to speak, once it's over, you feel happy to have made that connection. I strive to defy my weaknesses.

He loves his two kids.
Raghu:
I have a son and daughter and I call them "Olympic babies" because they were born 4 years apart in Olympic years. They are very smart and cute and I'm so proud of them. My daughter has even helped design artwork for the Eyeconic blog.
Ashna is academically and artistically talented. She has a design driven mind and she takes pride in everything she works on.
Aaditya is a gentleman to the community. He always looks forward to helping people around him.

He is the office George Clooney.
Raghu:
I saw a few movies starring George Clooney and fell in love with his personality and way of acting. One day I decided to grow out my beard and took a picture posing like one of his selfies. I posted it on social media and then I was named as the office George Clooney.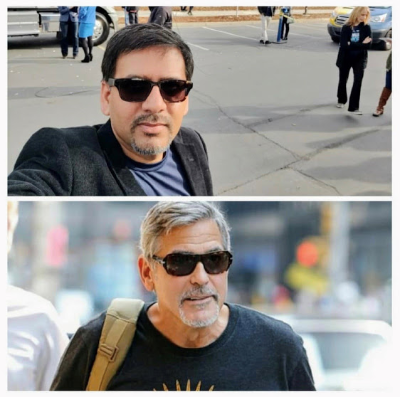 From Raghu's Supervisor
"Raghu is a huge asset to the Analytic team. His commitment to the business shows through his constant drive and dedication. He is always looking for the answer to questions we don't even know we need an answer to, until he presents it. He's the detective of the team. His calming manner, positive attitude, and sense of humor is always appreciated."

Raghu's Review
Raghu's go-to frames are Flexon glasses because they are strong and lightweight. He also likes the
Nike version of Flexon frames
because they are comfortable and a good statement piece for any style. He loves
Salvatore Ferragamo sunglasses
—especially aviator-shaped suns.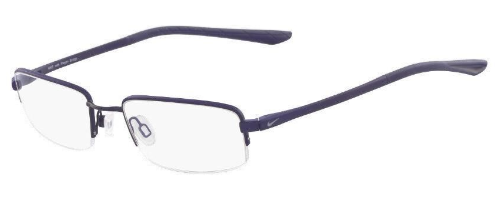 SHOP NOW