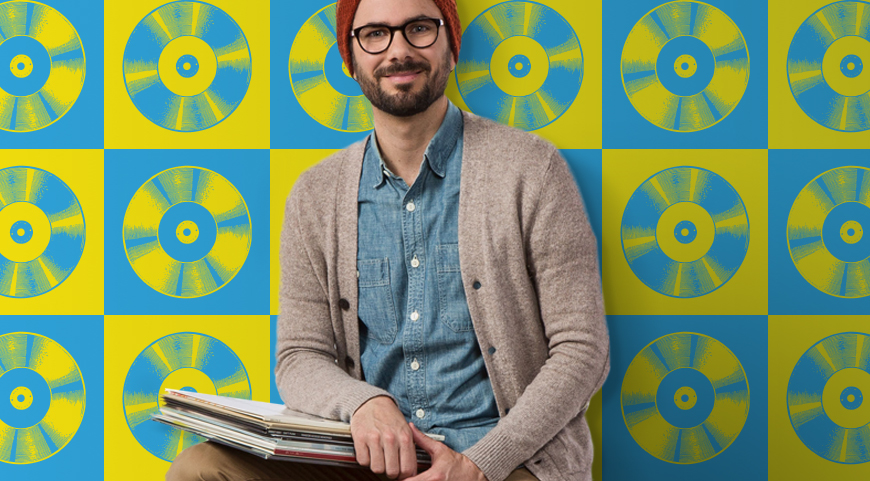 Employee Interview: Ryan Walton, Social Media at Eyeconic
What do you say we take our relationship to the next level? It's our pleasure to introduce you to a more personal side of Eyeconic—our people. By sharing some of the faces and stories of Team Eyeconic, we also hope to learn a bit more about you too. So let's get better acquainted, shall we?
Our social media guru Ryan tells us about his vinyl collection, the secrets of a social media job, and more.
Tell me a little bit about your background. How did you get started in the field?
I was involved in different nonprofit work and have always had creative inklings where I was always involved with website, communication, and digital media. Even before the huge explosion of social media, I was really into that stuff. When platforms like Facebook and Twitter first popped up, I got on to it and really used it more for community-building and trying to start local movements and grassroots type stuff. From there I started working for Apple. I think where I'm at right now—content and social media specialist—is a combination of both of those experiences. I get to do a variety of work. I do a lot of social media high-level strategy, but I also get to do content, photography, video editing, and education.
Describe your typical workday.
It's very different day-to-day. I go to a lot of meetings. My calendar is full of meetings. Which I like; I like interacting with people face-to-face because sometimes when you're in the social media world you can lose sight that we're flesh and blood and we need to have human interaction.
What do you enjoy most about your job?
Right now, I am enjoying the diversity of my work. If I were just stuck doing one thing all day, I would probably die on the vine. So, I like the fact that I get to do a lot of different types of work: photography, video editing, social media strategy and engagement. I do social media training on campus too. It's really valuable.
What do you want people to know about your job?
I think a lot of people go, "Oh you just sit on Facebook and play on Twitter all day." Yes, I am on Facebook and Twitter all day and there is a fun element, but it's a challenge. There is a lot of strategy, work, and sweat that goes into creating great content. You have to stay up on trends and learn on the fly because things are constantly changing. Things don't just magically go viral. That takes a lot of prep behind the scenes and you have to be prepared for those things.
What is your background in music?
I actually didn't pick up a guitar until I was 14 or 15 years old. These guys were playing guitar and I picked it up. I had some skills with singing and fell in love with it. I started leading music at church through high school. Then I got offered a music scholarship for college, so I started playing throughout college and even after that I did the traveling band stuff. So, it's always been a part of my life and culture. I can't imagine my life without music. Now that I have kids, I'm trying to create an environment where they have access to music. I want to expose them to as much as possible and see what sticks.
How big is your vinyl collection and what prompted you to start it?
I love the physicality of the vinyl. There's something about going to record stores, digging through crates of records, and the hunt for that one piece you're looking for. There is something about that process that I like a lot and to actually have that record in your possession. My collection isn't huge. I probably have 150 records.
What is your favorite vinyl record and why?
I'm really liking blues and folk mixed like Leon Bridges or Michael Kiwanuka. It's kind of soul acoustic music that I'm really digging right now. It's just something you put on after a long day, grab a drink, and kick back. It makes you feel good and you get lost in it.
There is more where that came from, so keep your eyes open for more interviews to meet the team that creates a more human way to buy eyewear online.