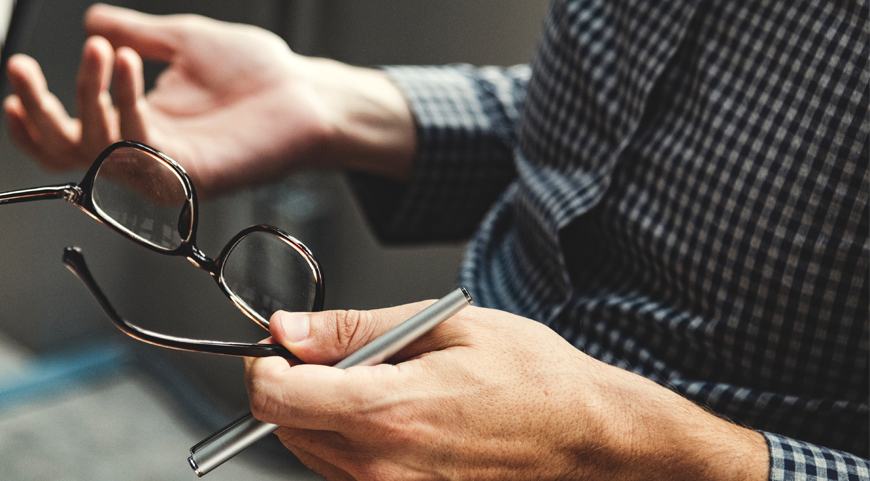 Insurance Hack: How to Get Deep Discounts on Designer Eyeglasses
Buying a new pair of designer glasses or sunglasses can be an expensive proposition. Lately, social media hoaxes have surfaced claiming to offer the latest brand-name eyewear at incredible discounts. Alas, those low-price "deals" are too good to be true. However, there is a legitimate way that you can save hundreds of dollars on designer glasses and prescription lenses—using your vision insurance benefits.

Most vision insurance plans have a frame allowance that will cover a portion of your prescription eyewear purchase. That percentage varies based on your vision plan but can be applied to any brand of glasses or sunglasses. In other words, those fashion-forward frames that cost $400 could be significantly cheaper once you tap into the vision benefits you already have.

How to Score Discount Designer Glasses
If you're shopping with Eyeconic, you can get the best price on designer glasses by linking your VSP, Cigna, or MetLife vision plan. First,
create an Eyeconic account
. Next, visit our
user-friendly benefits page
to make the connection. Now it's time to shop! You'll see your discount applied when viewing frames, so it's easy to tell how much you're saving (and you're going to be pleasantly surprised at the price cut!).
The best part about buying designer glasses on the cheap with insurance is that it's totally above-board. There are no gimmicks involved. In fact, saving on frames and lenses is one of the major benefits of a vision plan.
Using Other Vision Plans to Buy Cheap Designer Frames
Just because you have a different vision insurance provider doesn't mean you can't save on designer glasses. Download our
out-of-network claim form
and submit it to your insurance company for reimbursement. It's important that you check your plan details before making a purchase—there's nothing worse than paying more than you bargained for.
Designer Glasses from the Brands You Trust
We're not talking about imitations of popular designer brands—Eyeconic sells prescription glasses and sunglasses from household names like CALVIN KLEIN, bebe, Chloé, Ray-Ban, and Persol. If you're serious above saving on designer glasses, using your vision insurance benefits is the best way to get a great deal.

More Ways to Save on Designer Eyewear
Aside from using your vision insurance benefits, tapping into discounts and promotions can lower the cost of designer glasses, too. Eyeconic even rotates different brands through for extra savings. You can learn about all of these offers on the
Discounts & Promotions page
.
Shop Now