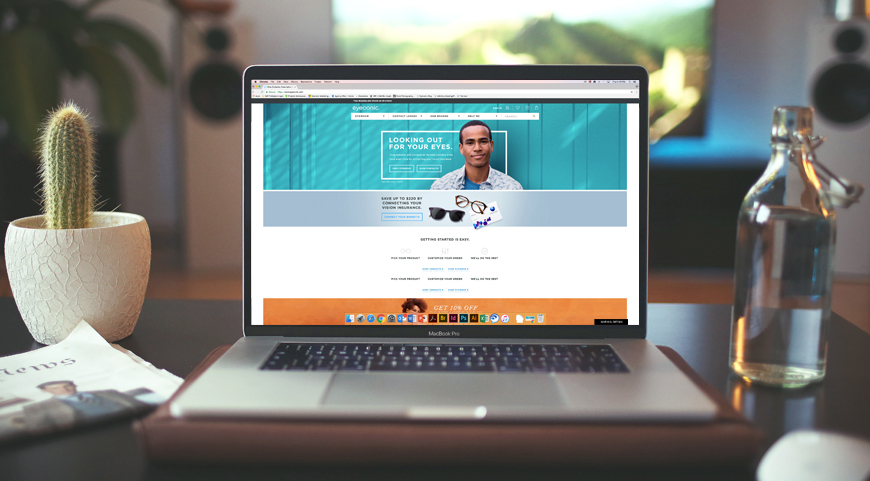 4 Tips on How to Buy Prescription Glasses Online – and Save Money
We live in an age of online shopping and fast shipping. When purchasing your glasses online, you want to make sure you're checking all the boxes and finding quality frames at a great price. Here are four tips to keep in mind when shopping for prescription glasses from an online retailer:
1. Take advantage of your vision insurance benefits, or risk spending too much
If you have vision insurance, odds are you have a yearly or bi-yearly frame allowance that covers the cost of your new glasses with a copay. Websites that let you
connect your vision benefits
directly will allow you to avoid the hassle of submitting an out-of-network claim to your insurance.

2. Stay in-network to save the most on frames
If you're able to stay in-network, you should - the savings can be significant. Your frame allowance most likely only renews once a year or every other year so it's important to get the most for your money. Why is staying in-network so important? Your insurance carrier has already negotiated deals on your behalf. For example, VSP works closely with quality brands to ensure the best pricing for members. When a VSP member selects a
VSP provider
or chooses to
shop online with Eyeconic
, they can expect the very best prices on frames and any additional lens enhancements, including:
Scratch-resistant coating
Anti-reflective coating
Ultraviolet (UV) protection
Progressive lenses
Blended bifocal lenses
Most tinted and photochromic lenses
When you shop out-of-network, chances are you'll have to cover the cost upfront, fill out and submit an out-of-network claim, and wait to be reimbursed later. Plus, the reimbursement you receive may be less than what you would have saved shopping in-network.

3. Get a personal preview with a Virtual Try-On Tool
Afraid of the unknown? When you shop for glasses online, look for an augmented reality option that lets you preview frames right away. Home try-on sounds great, but you often have to wait for frames to become available before they can be shipped and then you wait again for them to arrive. Once you do receive your sample frames and select your perfect pair, you have to mail them back to the manufacturer and wait for them to be made and mailed back to you. With
Virtual Try-On
you can see how they look instantly at various angles and order right away.

4. Make sure your frames come with a free adjustment
Each face is unique, so it's important to make sure you have the correct fit for your frames. With a
frame adjustment
,
a licensed optician can look at how the frames sit on your face and address any opportunities to make your new eyewear more comfortable.
Ready to start shopping for frames? Find your new glasses on Eyeconic.
Shop Now
Your vision can change year-to-year. Need a new prescription?
Find a doctor
NEED A VISION PLAN?
Retired, between jobs, or have your own business? If you don't have vision insurance through your employer, you may want to consider purchasing an individual vision insurance plan to save on eyecare, eyewear, and contacts. VSP® Vision Care offers plans that give you peace of mind, as well as support you in keeping your sight strong.
SHOP VSP PLAN