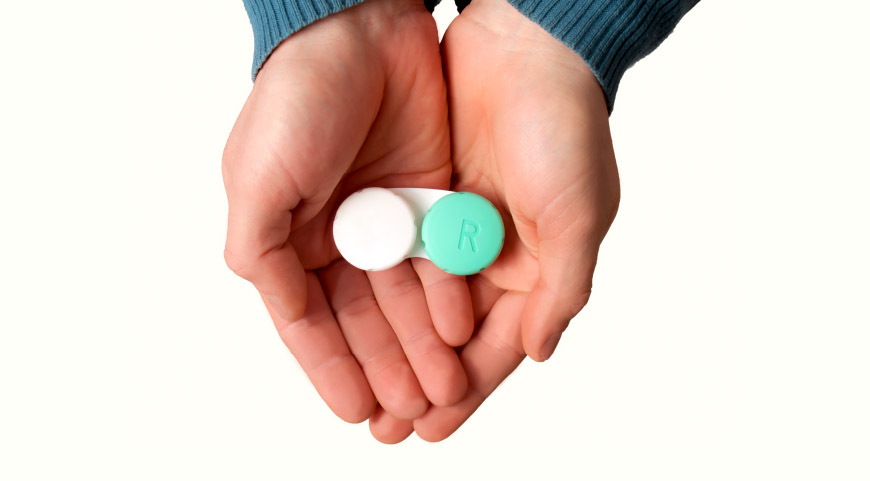 How Should You Care for Contacts?
Show Some R-E-S-P-E-C-T
If you wear contact lenses, you know they are a vital part of your everyday life. Since they play such an important role, why not treat them with a little respect? We've put together a list of contact lens care tips to maximize the life of your contacts.

Rinse your hands thoroughly with soap and hot water for at least 20 seconds before reaching for your eyes. And don't forget to clean under your nails! Even if you're just hanging out around the house, dirt and grime are everywhere. Trust us when we say you do not want dust, dirt, or germs anywhere near your line of sight.

Expect the unexpected. Keeping a small bottle of saline and a contact lens case in your bag at all times to ensure you're always prepared. If you get stuck somewhere, want to stay at a friend's house, or forget to pack them in your suitcase, you're in the clear!

Soak your contacts in saline solution—not water! If the solution isn't sterile, you run a high risk of bacteria growth, which can cause infection. Ew.

Prepare yourself! As soon as you order new contacts, write down your next refill date so you're not blind for a few days waiting for your new contacts. By ordering an annual supply, you can even save up to $120!

Examine your contacts before putting them in each morning. Sometimes, your contact lenses can tear or scratch if they dry out. By taking a closer look at your micro-specs each day, you can save yourself a whole lot of trouble.

Carry a spare pair of your glasses with you in case of emergency. Whether one of your contacts falls out, rips, or just isn't cooperating, it's always nice to have a backup pair of glasses to ensure you'll be able to see.

Take them out at night! We cannot stress this enough; there's nothing like peeling off your dried-out contacts first thing in the morning. What a great way to start off your day! *sarcasm*

If you respect your contacts, we promise they'll respect you back!
Are you due for a new prescription or refill? Eyeconic can help! Use our directory to find a local eye doctor, and order your contact lenses online. By ordering an Contact (ha ha, get it?) your local eye doctor for an eye exam, and order your annual supply of contacts at eyeconic.com.