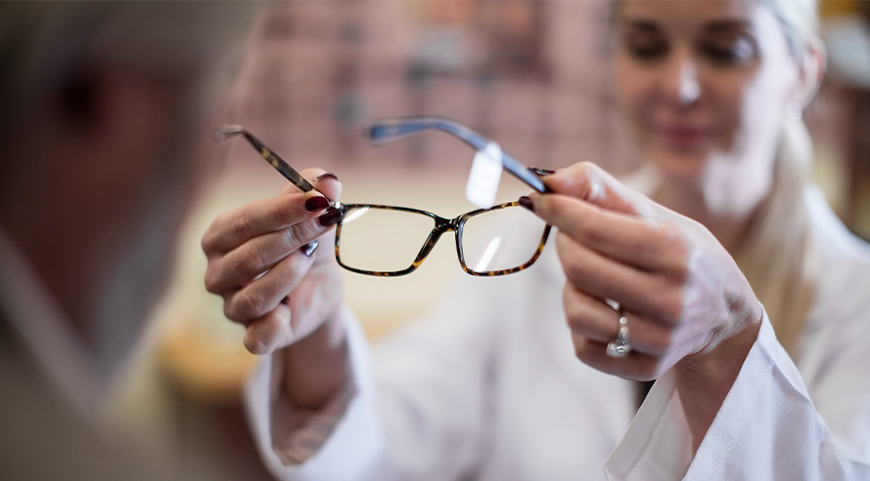 I Ordered Glasses Online. Who Will Fit Them for Me?
Buying glasses online is a convenient option for many people. You can browse a large selection of frames, try glasses on with a webcam, and you might even save some money. One question we get a lot is, "What if my new glasses don't fit right?" The answer? Eyeconic's got you covered.

It works like this: every customer who buys a pair of glasses from Eyeconic gets a complimentary frame adjustment with a VSP eye doctor. They'll check to see if your new glasses are sitting too high, too low, or just right. Minor adjustments may be necessary to the temple arms so they fit snuggly—but not too tightly—over your ears. Finally, you can bring up any concerns about how the frames feel.

Why is it sometimes necessary to get a frame adjustment when you've already provided your glasses measurements? Frames have adjustable components, including the nose pads and temple tips. The default fit from the factory may not perfectly match your face. Luckily, a bit of handiwork by an optician or optometrist is usually enough to make the necessary adjustments.

On the off chance that something still doesn't feel right you can take advantage of Eyeconic's free return policy. We want you to get paired with the perfect frames and are willing to go the extra mile to make sure you're happy with your purchase.
Virtual Try On
Can I Adjust My Own Glasses?
We don't recommend trying to adjust your glasses. It can be tempting to force delicate parts into place and this can make things worse (like breaking-your-glasses worse). Eye doctors work with frames every day and will be able to diagnose and fix any issues much faster than the average person. Your frame adjustment is free, so you have nothing to lose!
Scheduling a Free Frame Adjustment
Interested in having a VSP doctor take a look at your frames? You can learn more about scheduling a free frame adjustment by signing in to your
Eyeconic account
.