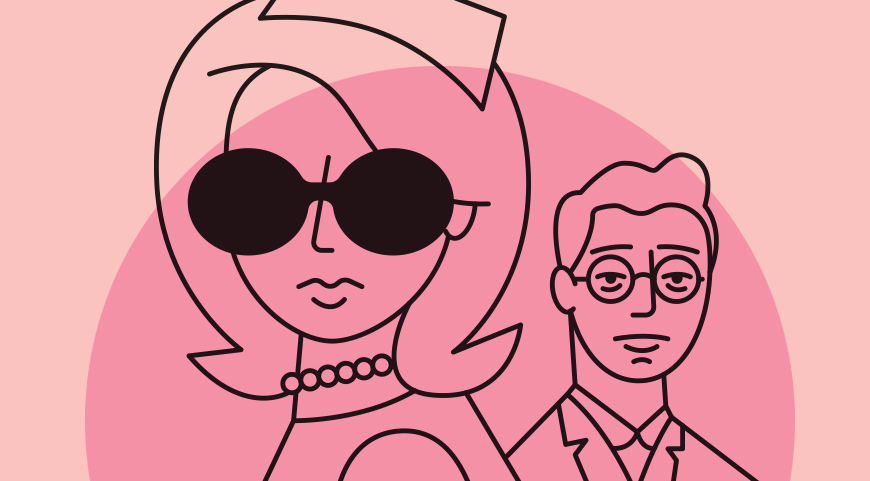 A Century of Style: Trend-setting Glasses from 1900-2000
Eyewear has changed a lot over the last 100 years. From being a necessary evil to becoming functional fashion, eyeglasses have seen quite the evolution.
Of course, let's not forget that even further back in time, glasses were barely acceptable to be worn in public places. Now, however, a stylish pair of glasses is the pièce de résistance of your look.
[Check out our Brief History of Glasses infographic to trace the evolution of eyewear back through the centuries.]
Let's take a look at how eyewear evolved throughout the 20th century and influenced the eyewear we know and love today.
1900-1920: A pinch of the nose.
At the turn of the century, a common style was also the least comfortable. The French pince-nez, or "nose pinch", glasses were worn by Teddy Roosevelt and Anton Chekov.
FUN FACT: Scrooge McDuck from the classic cartoon "Duck Tales" wears pince-nez glasses.
1920-1930: Well-rounded.
Plastic lenses became available, popularizing glasses for movie stars and athletes. Round, more comfortable over-the-ear frames were all the rage.
1940-1950: All about the browline.
Finally, glasses become more than just a medical device. The upswept and glamourous browline style eventually inspired the cat-eye, which is still popular today.
FUN FACT: Marilyn Monroe popularized the cat eye shape and frequently wore them in her films.
1960-1970: All that drama.
Both the Mods and hippies ruled the fashion world and brought attention to oversized, dramatic fashions (albeit in different ways).
FUN FACT: Jackie Kennedy Onassis' oversized sunglasses were hugely influential in drawing the American masses to the trend.
1980-1990: Big hair, big glasses.
Oversized frames remained in style in the 80s (think Barb on "Stranger Things") and even bolder styles emerged in the form of funky shapes, colors, and materials. The '90s, however, brought in a few more refined options.
2000s and beyond: All the things.
The 21st century has made beautiful and affordable eyewear even easier to produce and purchase. With digital stores like Eyeconic, you can choose from retro, classic, modern, and practical styles all in one place. What a time to be alive!
If you feel inspired to shop for fashions vintage and modern alike, look no further than Eyeconic's extensive selection of glasses and sunglasses.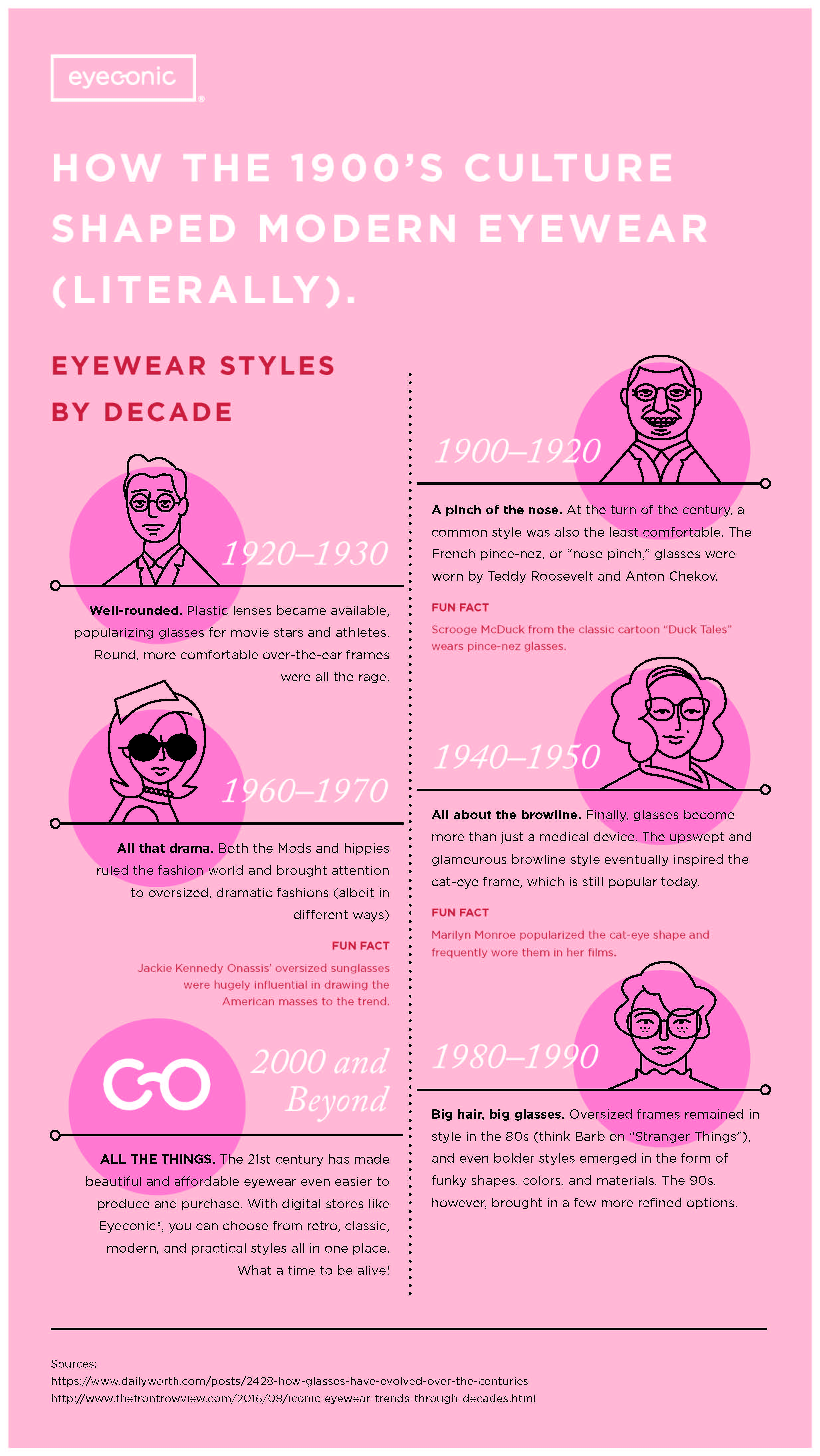 Sources:
https://www.dailyworth.com/posts/2428-how-glasses-have-evolved-over-the-centuries
http://www.thefrontrowview.com/2016/08/iconic-eyewear-trends-through-decades.html