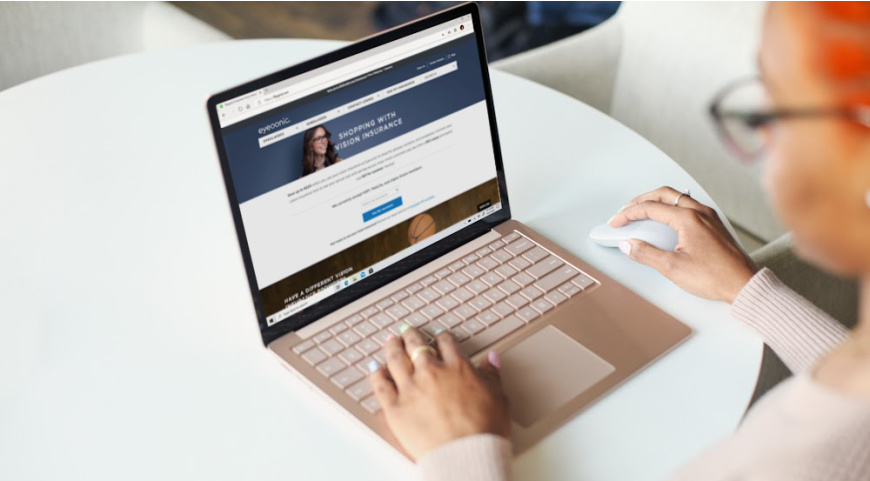 Understanding Vision Insurance Benefits: In-network vs. Out-of-network Claims
Eyeconic's #1 priority is helping you take care of your lovely eyes. With vision benefits, you can accomplish this while you save money on glasses. Even better, you can use thoes qualifying benefits on Eyeconic.
In fact, Eyeconic is the only online retailer that allows you to maximize your dollars by applying your VSP®, MetLife, or Cigna vision benefits in real time. And the best part? It's super easy to use your vision benefits on Eyeconic.
Here are a few of the most important details to help you maximize your benefit, and shopping experience on Eyeconic.
How do vision benefits work?
Vision benefits are great (and easier to use than you think). The first step is finding a doctor and scheduling your appointment. We work with over 38,000 doctors nationwide and make it easy for you to
find one
nearby.
Seeing an optometrist or ophthalmologist isn't just about getting a new prescription, though. These healthcare professionals can also check for eye diseases—early detection is crucial for treatment. Then, once you have a prescription, you can shop for eyewear and utilize your benefits online at Eyeconic or at your doctor's office.
Find a Doctor
What insurance does Eyeconic accept in-network?
Currently, Eyeconic accepts VSP®, MetLife, and Cigna vision benefits.
My plan is in-network! How do I use it?
Great news! To use your benefits, simply follow this
link
, select your vision provider from the drop-down, and fill out the form to help us identify your coverage.

Then get ready, set, SHOP! Eyeconic will connect the coverage you have and apply your benefits at checkout. You'll see your savings immediately. You can even create Eyeconic accounts for your dependents.

And what's more—if you've already used your benefits, you're eligible to receive a 20% discount on all additional glasses and sunglasses.
Use My Insurance
Can I see what my coverage is before I shop?
Yes! Once your coverage is linked to your Eyeconic account, you can see a snapshot of your coverage on your Dashboard. You can see your contact lens and frame allowances, find details about how to utilize your specific coverage, and even add your prescription information if you already have it.
What is an out-of-network insurance claim and how do I file one?
If you're not insured by one of the providers we listed, no problem! Chances are there is still some reimbursement available to you. You can still make your purchase on Eyeconic, and then complete our
online out-of-network claim form
, include a copy of your receipt, and submit it to your vision insurance provider. They'll provide reimbursement based on your plan allowances.
I don't have insurance but I want to save. What now?
If vision benefits are not an option through your employer, don't fret… you can buy a vision plan on your own. VSP® Individual Vision Plans start as low as $13 a month! VSP® offers a direct plan, available to everyone.
See Plans
ENROLL IN VISION INSURANCE THROUGH YOUR EMPLOYER
Open enrollment is a window of time when employees can select health care, vision, dental, and other benefits through their employer. Opting in for vision insurance allows you to care for your eyes, your health, and save money by simply electing for the benefit during your enrollment period. On
VSP®'s interactive site
, you can calculate potential savings, consider different vision plans, and find providers in your area to help get you started. Plus, you'll have the added bonus of a frame allowance for your next pair of glasses. That allowance can be instantly integrated into your Eyeconic account and show your real-time savings. Healthy Eyes + Savings + Stylish Frames = Winning!
Learn More
With all these tips and tricks, we can't think of a reason NOT to start shopping (and saving)! Your eyes will thank you later.
Have more questions? We've got you! Give us a call at 855-EYECONIC (855-393-2664), 7 a.m. to 5 p.m. Pacific Time, every day. We'd be happy to help.