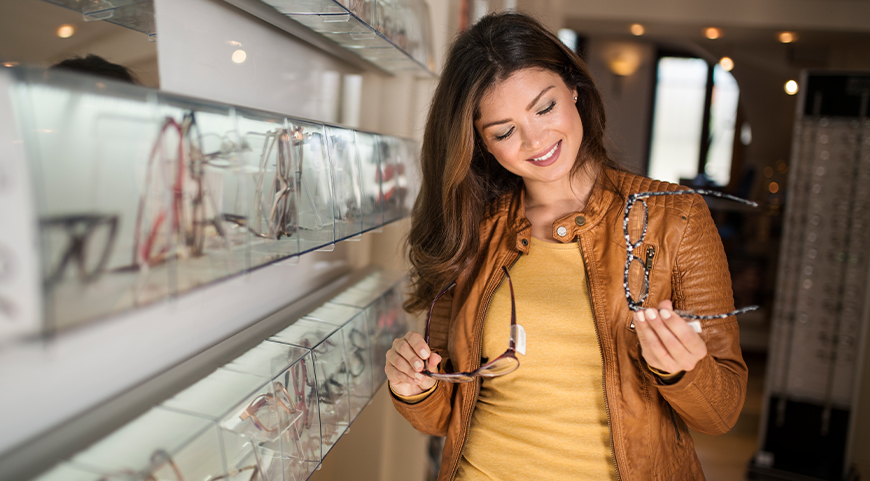 Thinking About New Glasses? 5 Steps to Choose the Right Frames
Picking out the perfect pair of glasses can be both fun and intimidating. On the one hand, you get to show off your style with new frames. However, there are so many styles to choose from that it's easy to get overwhelmed. Spend a few minutes browsing Eyeconic and you'll see cat-eye glasses, square-frame glasses, rimless glasses, hipster glasses—the list goes on and on.

We're here to help you narrow down your options with five tips for choosing the right glasses:
1. Think About Face Shape
Frames that contrast with the shape of your face tend to look better than those that reinforce it. In other words, people with round faces often find that square or rectangle glasses look good on them. People with square faces may feel the same way about round glasses. Considering face shape is generally the first step in finding the perfect glasses, but it's not a hard-and-fast rule. Do you have a beautiful, round face and like round lenses? Then we say go for it! Anyhow, there's a lot more that goes into finding the right glasses than just face shape.
2. Shop Your Style
It's absolutely true that you have a lot of choices when it comes to eyewear styles. However, you've probably already developed your own tastes by now. Eliminate frame types that just don't work with what you normally wear. Whittle down your choices until only a few candidates remain.
Unsure of how you'll look in a new pair of glasses? This is a common concern, especially if you're trying a new shape or style for the first time. What can you do? Use our
Virtual Try-On tool
to preview many of your choices at home.
3. Take Your Measurements
There's no such thing as a one-size-fits-all approach when it comes to prescription glasses. Frames come in different sizes to ensure a comfortable fit that places the lenses right where they're supposed to be on your face. There are
three measurements
you need to be concerned with: lens width, bridge distance, and temple length. You can often find these on your existing frames. If you don't have a pair of glasses handy, you may need to
visit the eye doctor
for accurate measurements.
Find a Doctor
4. Pick the Right Prescription Lenses
It's easy to lose sight of the real purpose behind prescription glasses: improving the quality of your vision. While frames get a lot of attention, lenses do most of the work. You eye doctor will help determine what type of lenses you need, but there are upgrades available that offer special features.
For example, special coatings can filter out the blue light emitted by computer screens while anti-reflective coatings cut back on glare. It's important to
choose lenses that fit your lifestyle.
5. Use Your Vision Insurance Benefits
You can save quite a bit of money on new glasses if you have vision insurance. This is because providers often cover a percentage of the cost of new frames and lenses. Make sure you understand your benefits before making a purchase. Eyeconic integrates with many
VSP, MetLife, and Cigna vision plans
so you can see your savings while you shop.
Your Personal Shopper: 3 of Our Favorite Frames
Do you need a little style inspiration to get started shopping for new glasses? We can help with that. Here are a few of our favorite frames:

Ray-Ban RX5154 Clubmaster Glasses (Unisex)

Retro browline styling in an iconic frame design make the Ray-Ban RX5154 Clubmaster a standout pick. The transparent option is especially cool, lending a futuristic edge to this classic frame.



Shop now

Flexon® 623 Round-Frame Glasses for Men

There's a certain elegance that comes with round glasses, and the Flexon® 623 frames have it in spades. A memory metal bridge and temples make for a flexible frame that can bend and then return to its normal shape, so these men's glasses are a fashionable and resilient choice.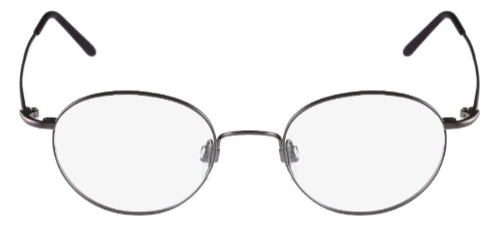 Shop Now

CALVIN KLEIN CK18543 Cat-Eye Glasses for Women

Cat-eye frames are one of the most recognizable styles of eyewear. CALVIN KLEIN's CK18543 glasses are available in four stylish colors, including several transparent options. It's hard to go wrong with frames from this world-famous designer, so it's no wonder the brand has made our shortlist of best picks for new glasses.



Shop now