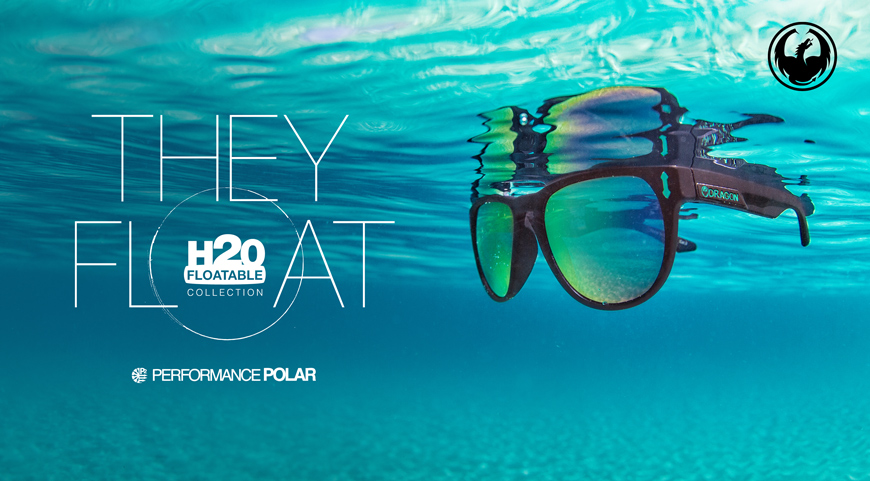 Dragon H2O Floatable Sunglasses Aren't Afraid to Get Wet
It's more than likely you'll be finding yourself at a body of water at some point this summer, whether it be a relaxing day at the pool, wake boarding at the lake, or surfing at the beach. Unfortunately, many people lose their sunglasses during their aqua adventures... until now. Floating sunglasses keep your eyewear within easy reach.
Dragon H2O Floatable Collection sunglasses flawlessly blend fashion and function to create your ultimate summer adventure companion. These game-changing shades pair some of Dragon's most popular styles with a lightweight frame designed to float in water. World renowned surfer Shane Dorian has tested and worn the H2O Floatable Collection. It is perfect for men and women who enjoy the active lifestyle thanks to the specially formulated floatable frame material, marine-grade stainless steel hinges, and water-resistant rubber logos and nose pads. Some models even feature temple tips for performance fit.
All premium, Italian-made H2O Floatable shades come standard with 100% UV protection and high-quality Performance Polar lenses, which block 99.9% of surface glare. These are Dragon's most advanced and durable polarized lenses, protecting against wear-and-tear from the elements by repelling water, dirt, fingerprints, and scratches with hydrophobic, oleophobic, and hard coatings. They are also ionized for a wide assortment of colored lens options and added glare reduction.
Dragon has a variety of frames, styles, and fits, including sporty, vintage, and classic looks. True to its Southern California roots, the H2O Floatable Collection by Dragon has you covered from the city streets to the beach and back. You'll never have to experience that sinking feeling that comes when you realize the ocean has claimed your favorite shades. See for yourself why Dragon is a favorite brand for athletes and sun worshippers.
Find a pair of Dragon sunglasses that float your boat:
Featured Frame: DR MARQUIS H2O