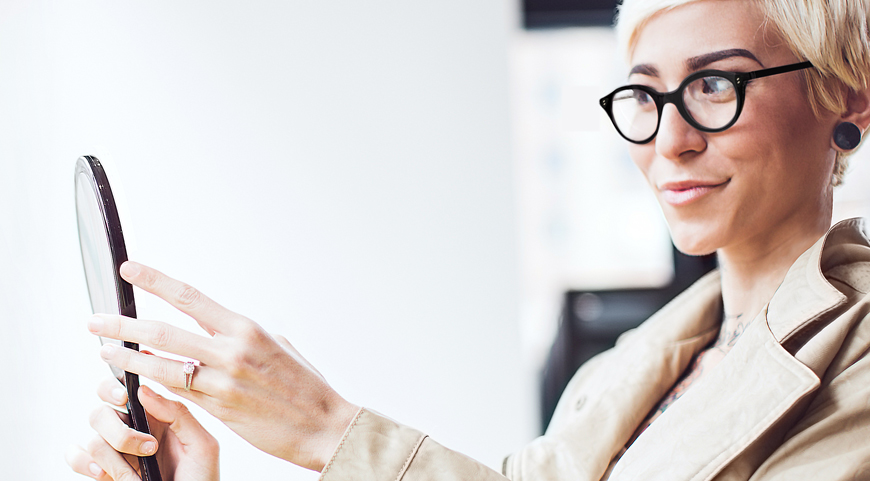 4 Ways to Find Glasses That Fit When Shopping Online
Shopping for glasses online is a breeze. You get to browse countless styles and deals are plentiful. Before you make a purchase, though, you want to be sure that the frames you fell in love with will complement your own look.
At Eyeconic, we understand that glasses and sunglasses aren't just optical aides – they're also fashion accessories. Here are four ways to make sure you look runway-ready in your new eyewear.
1. Shop for Your Face Shape
You probably wouldn't buy a new outfit that didn't work with your body type. Face shapes vary, too, so it's important to start your search with glasses that look good on your head. Refer to the guide below to narrow down your options:
Heart-shaped: Your face is widest at the forehead, then narrows to your jawline. Contrast is key here. You should consider glasses with rectangular or square lenses. Aviators are also a solid choice.
Round: Your face is about as wide as it is long. Round lenses would accentuate this, so you should search for rectangular glasses.
Oval: A longer face accommodates any frame. Round, rectangular, or cat-eye – you can pull them all off!
Square: A square face has even proportions and distinct angles, especially around the jawline. Oval or round glasses will look particularly good on you.
2. Find Your Current Frame Size
Stylish glasses don't do you much good if they're uncomfortable. This is why understanding your frame size is a must when ordering eyewear online.
If you're replacing a pair of frames, you should be able to locate three numbers along the inside of the temple. In order, these are the lens width, bridge distance, and temple length. Make sure the glasses you order come in the right size. We've put together a helpful frame size infographic with more details.
First pair of glasses? Stop by your local eye doctor and get measurements taken.
3. Use Virtual Try-On and See for Yourself
Eyeconic's Virtual Try-On tool uses augmented reality to put frames on your face. Just choose your eyeglasses, pose for a few photos, and check out your new look. It's the easiest way to try glasses on via the web – at least until we perfect the transporter.
4. Get a Free Frame Adjustment
Let's say your new glasses have arrived, but they feel a little bit "off." You'll be wearing your glasses all day long, so it's important that they're snug and comfortable. That's why it's a good idea to take advantage of Eyeconic's free frame adjustment offer. Just take your eyewear into a participating eye doctor within 90 days of your purchase for a tweak.